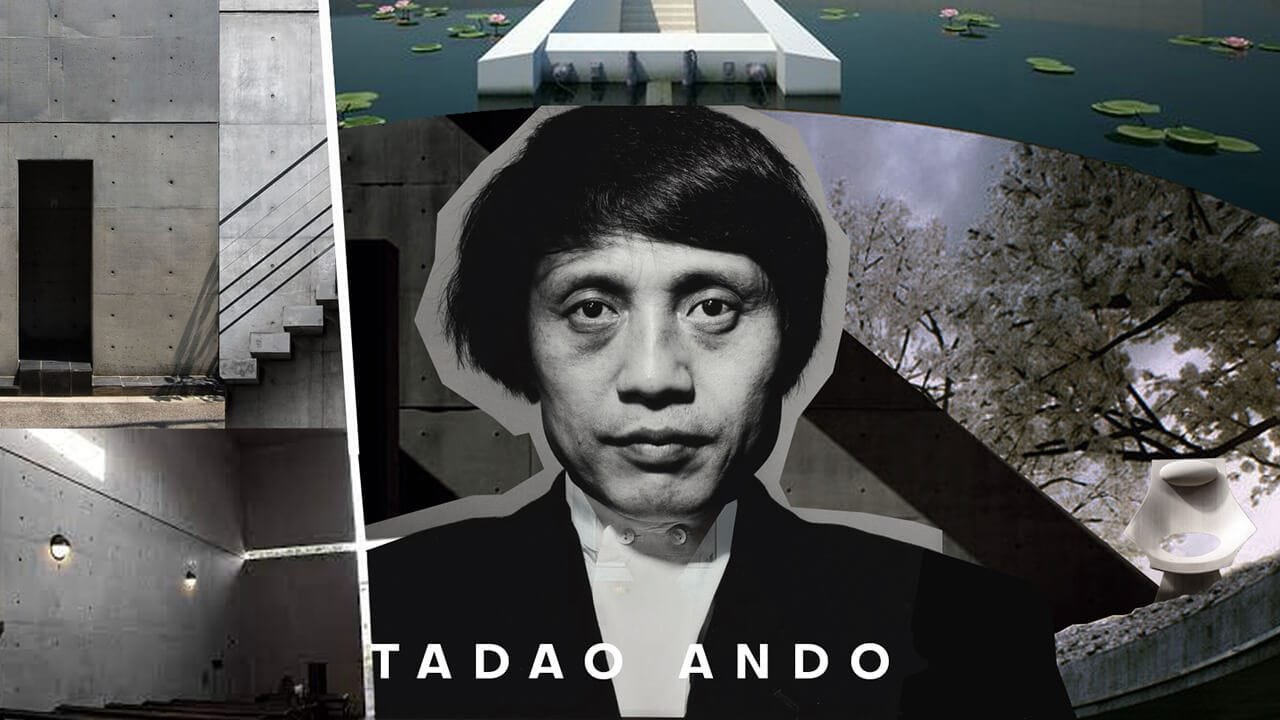 Tadao Ando – Exploring the Individual Through Nature and Architecture
Nationality: Japanese
Working era: 1970's – Present day. He is the winner of the 1995 Pritzker Prize.
Design Philosophy: "Architecture is an act of creating places where people can gather, meet, talk, and interact. I continue my work, hoping that one day I will be able to create an architecture where the visitors feel the light of hope and promote dialogue between each other."
Thematic approach: Contemporary minimalism with an affinity for complex spatial circulation. The influence of Zen philosophy is quite noticeable in his works. He invented the haiku effect, a style that highlights the emptiness of space to sustain simplicity.
Notable works: Row House, The Church of Light, Pulitzer Arts Foundation, Suntory Museum
Website: Tadao Ando Architects
Analysis of Tadao Ando's Architectural Design Oeuvre
Ando's architectural style can be best perceived by understanding his lifestyle, background, and influences. Raised in Japan, the Japanese religion and culture strongly influenced his style of Japanese architecture and design. Add to this the fact that he is a self-taught architect who spent most of his life researching the history of architecture around Europe and the West.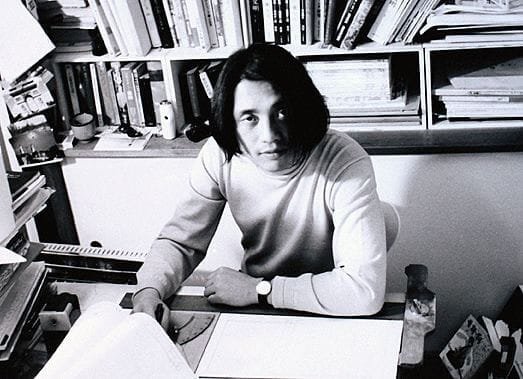 He was constantly pursuing to challenge the limits of architecture while paying homage to his culture. His unwavering belief in architecture's healing, transformative power inspired him to treat his vocational passion with reverence.
"I create enclosed spaces mainly by means of thick concrete walls." -Tadao Ando
Characteristics of Tadao Ando's Architecture
Characteristics of Ando's architectural works include the following:
1. Critical regionalism
Architectural critics classify Ando's work as "critical regionalism," a philosophical approach to architecture that aims to develop more humanely designed buildings that reflect the culture and traditions of the location they are constructed in, utilizing specific materials and design elements.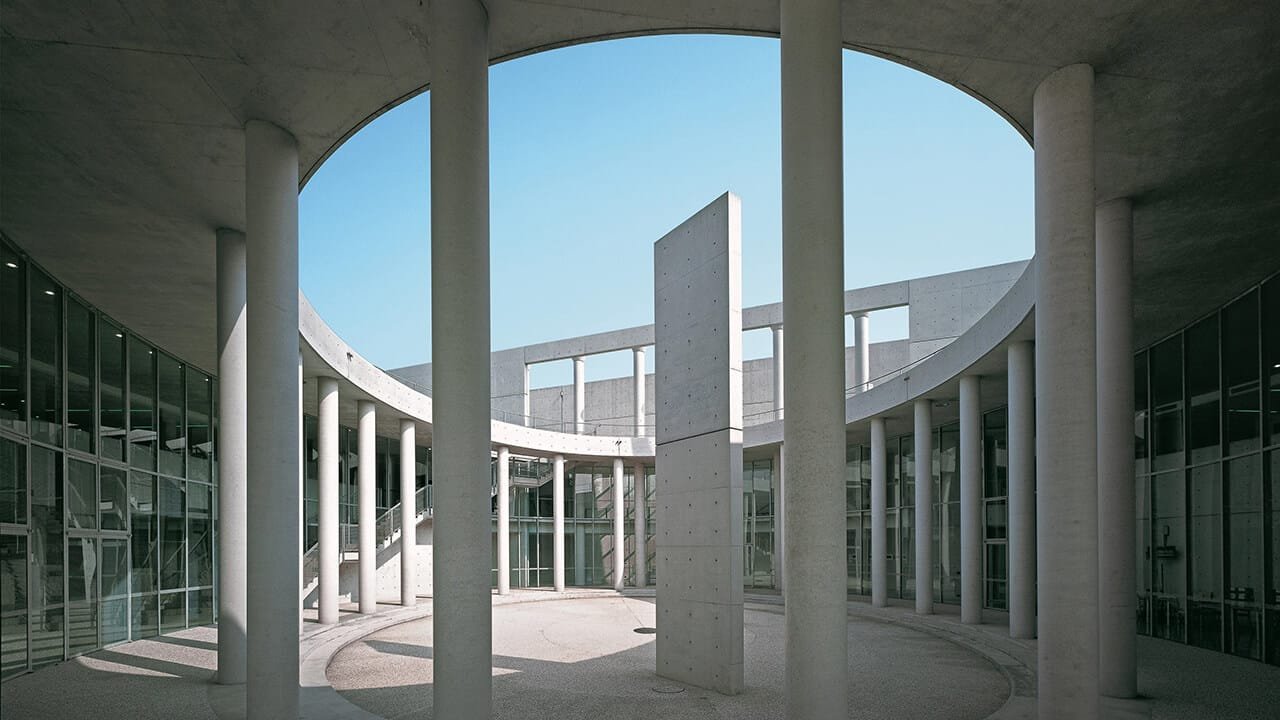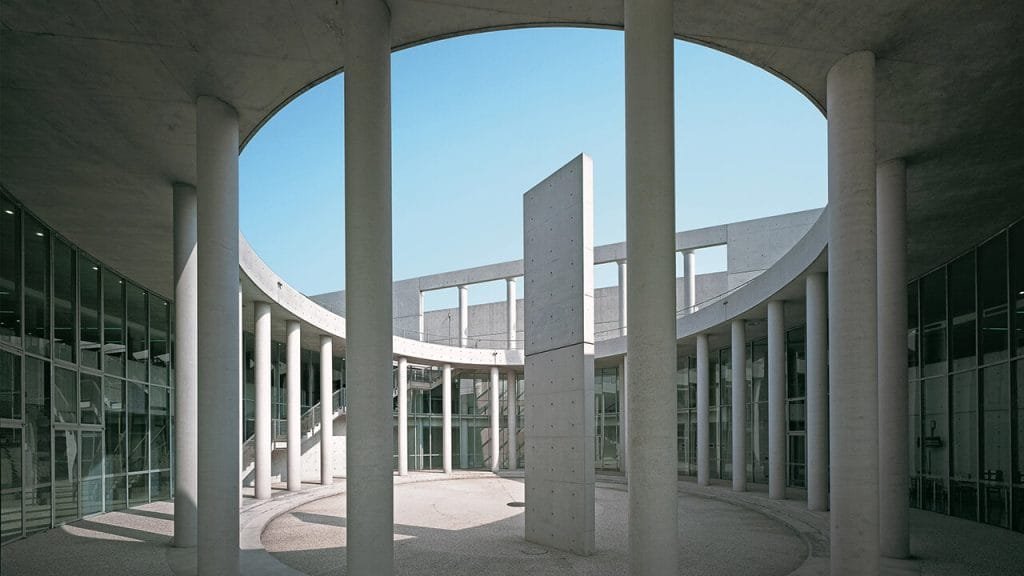 Fabrica. Benetton Communication Research Center in Treviso
2. Concrete walls
Ando's preference for concrete is said to have been inspired by Le Corbusier. Ando used concrete so much that he created his style of varnished version, giving a smooth, glossy effect to all his designs.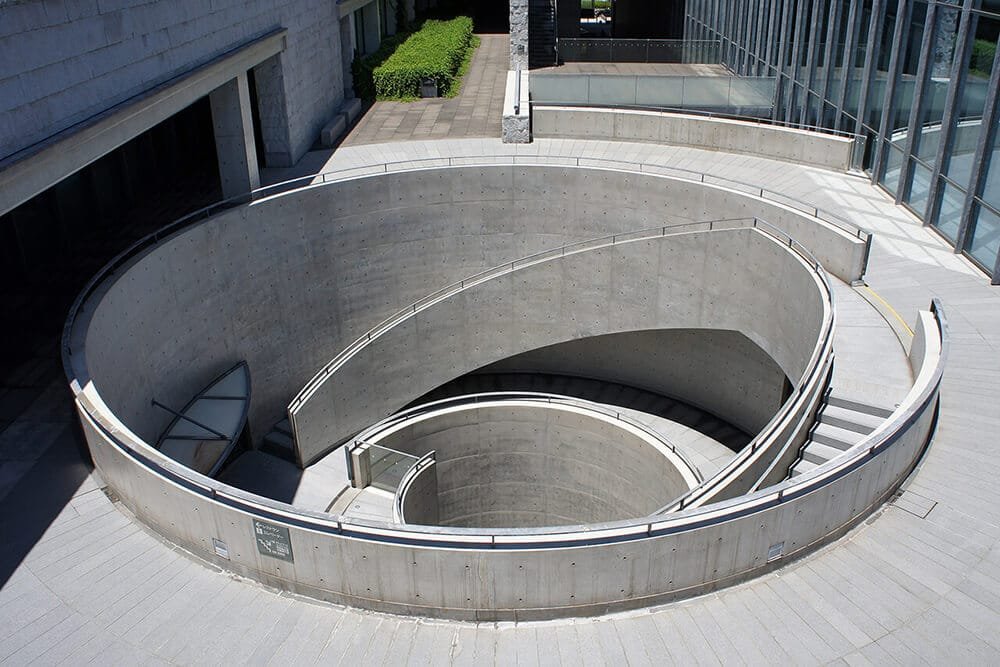 The Hyōgo Prefectural Museum of Art (2002) in Kobe, Hyōgo Prefecture, and the personal residence Azuma House (1976), also known as the Row House in Sumiyoshi are all buildings that incorporate Ando's infamous slabs of concrete for walkways and walls.
3. Simplicity
Ando's architectural style focuses on Zen and finding simplicity in inner feeling. His most prolific projects denounce the ostentatious display of grandeur in favour of smooth surfaces highlighting the surrounding nature. The Water Temple (1991) on Awaji Island represents this reverence for simplicity.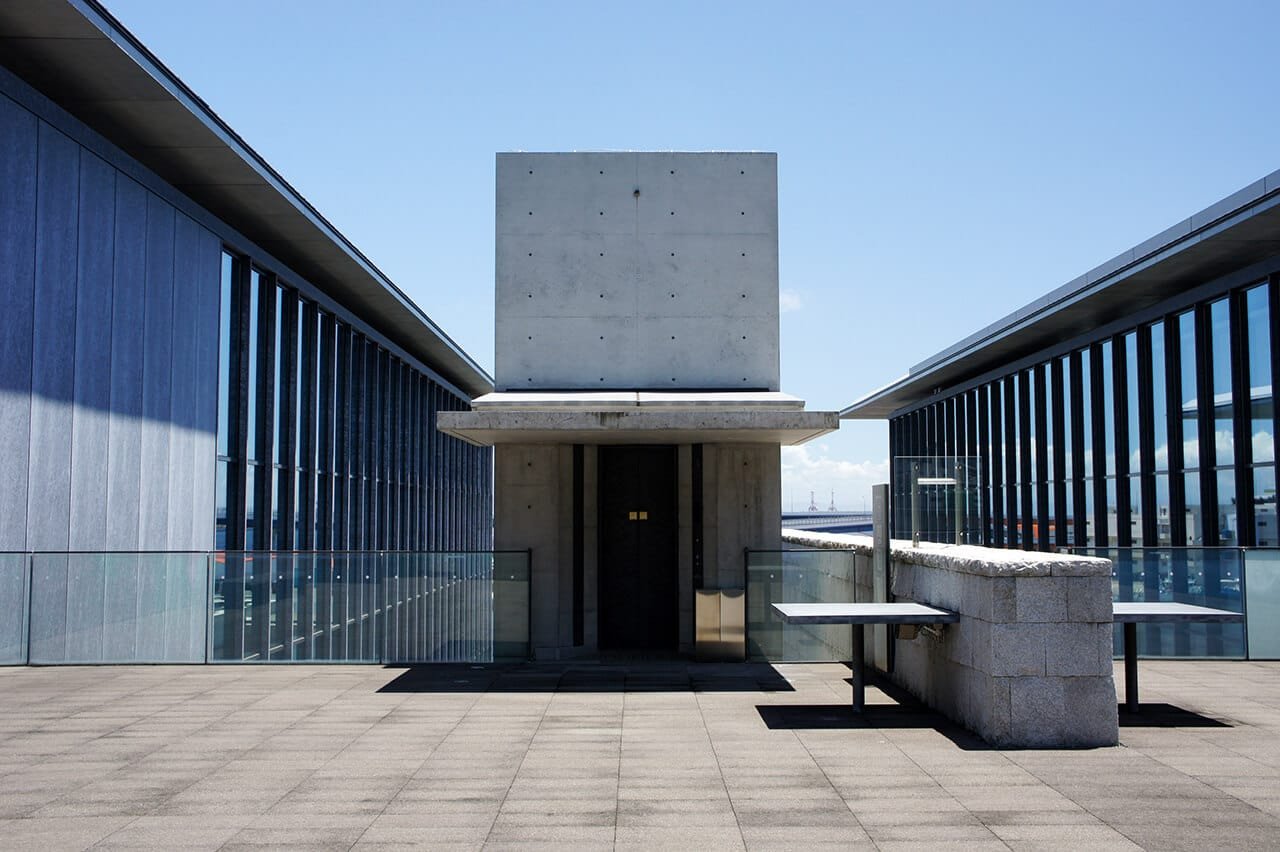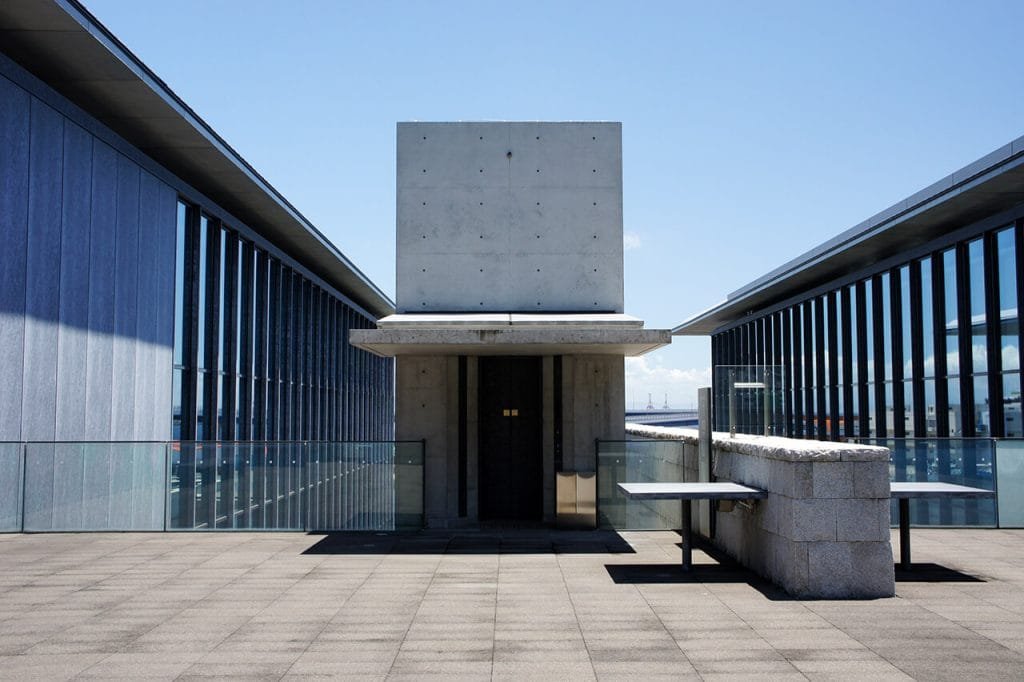 Architectural Philosophy: A Japanese Touch
In Ando's opinion, architecture is at its best when it allows people to appreciate the beauty of nature. "Architecture is not a self-contained personality. It comes into life, in my opinion, only through interaction with many elements of the environment, such as water, greenery, light, or wind," he explained.
Tadao Ando's work is known for the creative use of natural light and for architecture that follows the landscape's natural forms (as opposed to forcing nature to adapt to the confines of construction, this approach preserves the natural environment.). Concerning his profession, Ando states: "I believe that architecture is not the construction of buildings but rather the creation of space. I always try to reduce all the material elements as much as possible so the space itself can become rich and stimulating."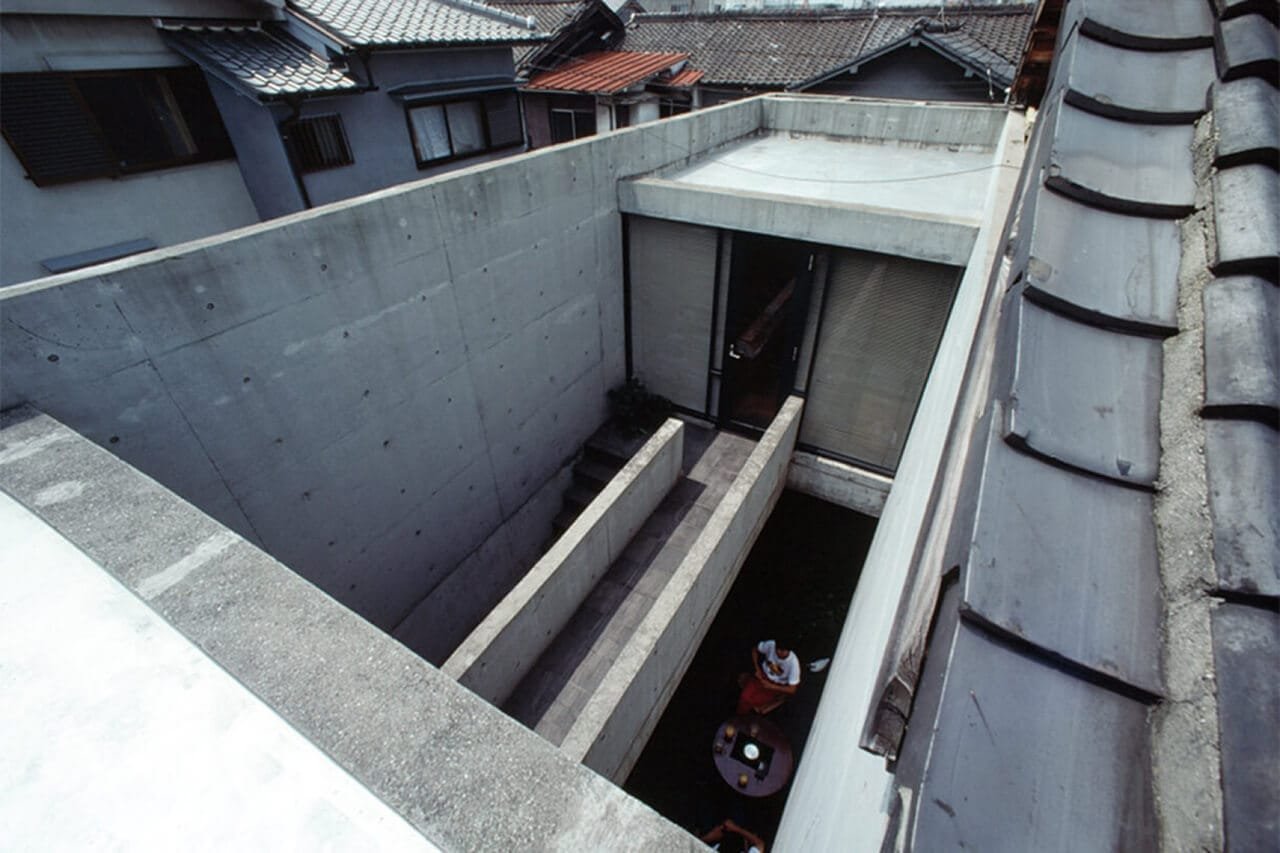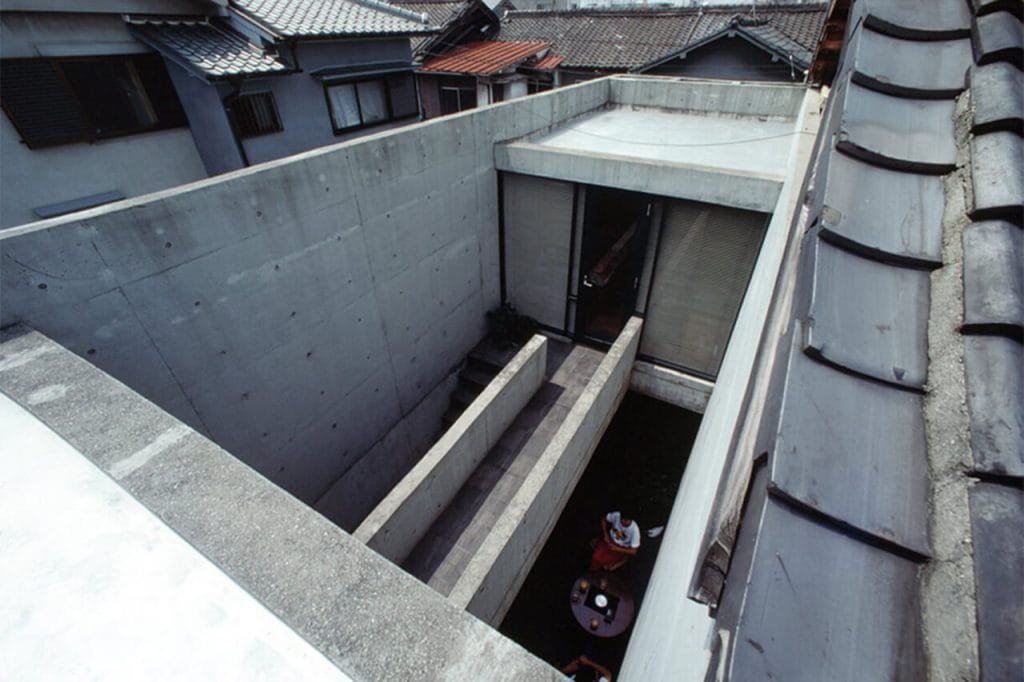 Subsequently, Ando's structures frequently feature convoluted routes for people to get around in all three dimensions. These routes weave in and out of the interiors and exteriors of several large-scale geometric shapes.
The New York Times architectural critic Paul Goldberger argues convincingly that "Ando is right in the Japanese tradition: spareness has always been a part of Japanese architecture, at least since the 16th century, and it is not without reason that Frank Lloyd Wright more freely admitted to the influences of Japanese architecture than of anything American." Hence, due to his site-specific decision-making, it is natural to note Ando's anticipation of seismic activity in most of his buildings.
True to this tenet, Ando's buildings reflect the culture and tradition of their location. They don't present a view nor enforce a perspective. Instead, they seek to inspire the viewers to look within and form their own opinions and values. This critical regionalism is rarely accomplished to the degree with which Ando's works have encapsulated it.
His architectural style is said to create a haiku effect, emphasizing space and creating beauty through simplicity. His designs further highlight minimalism through complex spatial circulation patterns, encouraging an almost spiritual experience in the observer.
His buildings are almost works of art in their integration of the construction material, light, and space to produce distinctive structures that captivate visitors worldwide.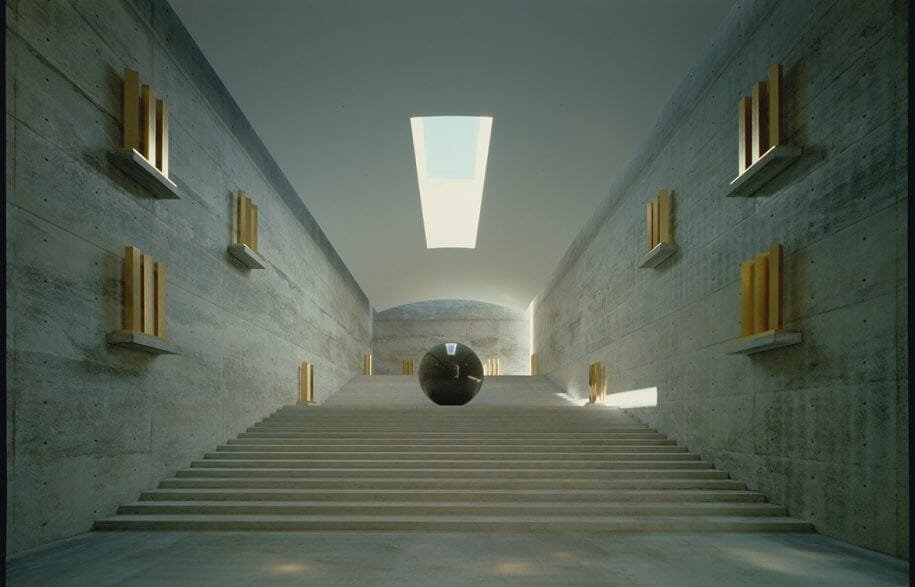 By leaving space around the building and magnifying the environment, Ando reinforces his belief that buildings exist harmoniously with nature. Neither is meant to obscure the importance of the other but rather relate to one another in an attempt to embody the rich heritage of the culture which they seek to immortalize and represent.
Concepts of Tadao Ando: Simplicity
Tadao Ando's designs reflect the site spirit concept, which defines architecture's nature and soul. He encourages conscious exploration among individuals through carefully devised circumstances in specifically designed environments. This urgency is linked to his fondness for the Japanese concept of Zen.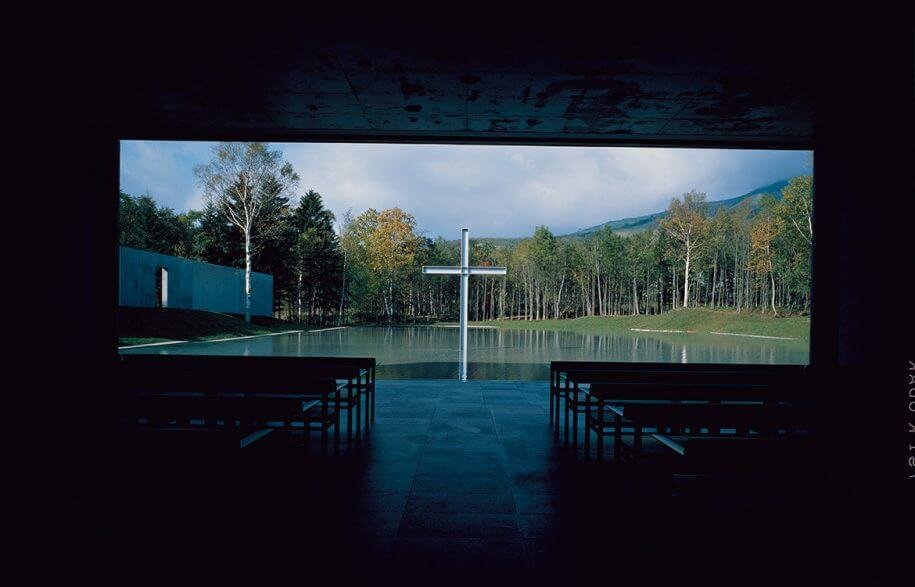 A clear, peaceful state of mind attuned to the conventional Japanese culture. This spiritual ideology focuses on the conception of simplicity and concentrates on inner feelings instead of outward looks. Ando incorporates this through his distinct use of customized, glossy concrete. The clean surface and stark, bare walls draw attention to the building's form, which gives architecture its emotional significance.
Because they represent poignant and aesthetic sentiments, Tadao Ando's designs have foreshadowed precise and fluid design ideas or architectural themes, which give people a poetic experience in such space structures.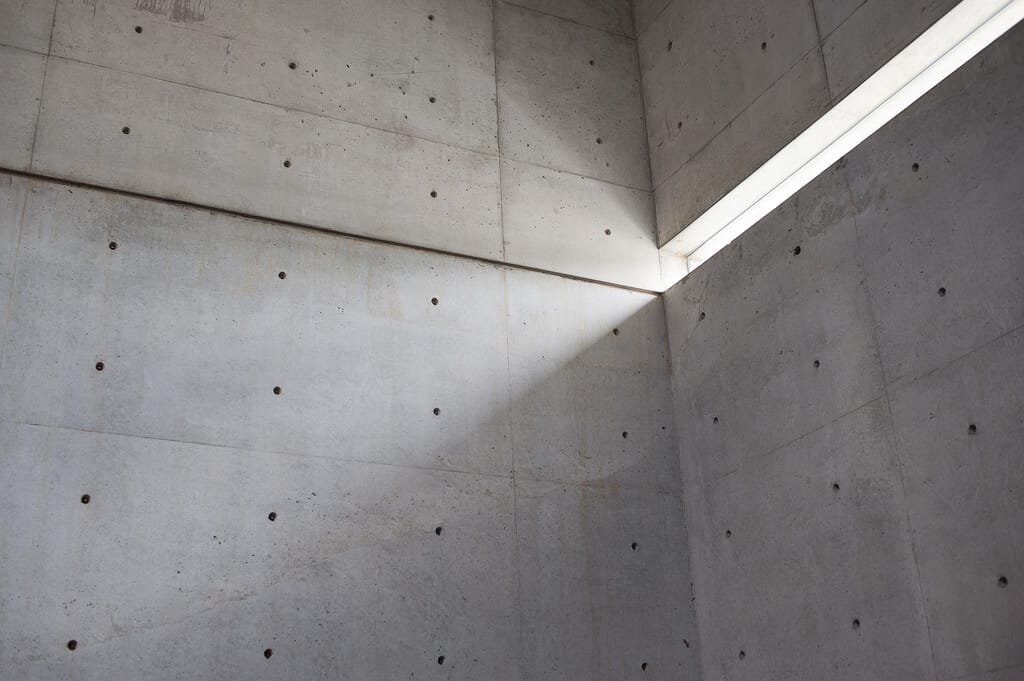 Founded as a result of thorough experimentation with spatial ideas, these designs combine modern and contemporary text meanings. Regarding space constitutions, Tadao Ando has mostly used space archetypes of various configurations. For instance, he used theological shapes in churches, and in museums, he used poetic forms.
Additionally, Ando's work is replete with references to water. The museum in Fort Worth is surrounded by water. He employs water and light to denote movement to illustrate the transience of life and nature.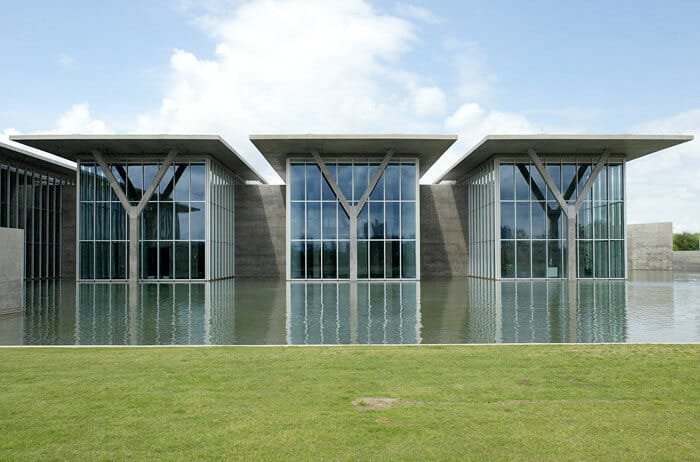 Metaphorically, water serves to reflect his capability of creating a virtual picture with different attributes from the original object while staying connected to the structure. Their intertwined duality expresses the tension between "statics and dynamics," "artificial and natural," as well as "architecture and landscape." While Ando reflects himself in architecture, the built object duplicates itself in water – similar to a mirror in front of another, the relations of these reflections are endless.
His buildings take the viewers on a reflective journey through which they discover themselves in the process of finding their surroundings.
Buildings by Tadao Ando
The structural integrity of Ando's buildings is further enhanced through their clean and logic-defying appearance of weightlessness. He rejects the ornamentation of buildings in lieu of illuminating the surrounding environment of the building. Ando creates his own building language through extensive use of concrete, wood, light, water, and space, harmonizing with nature and making Ando's creations organically beautiful and effortless.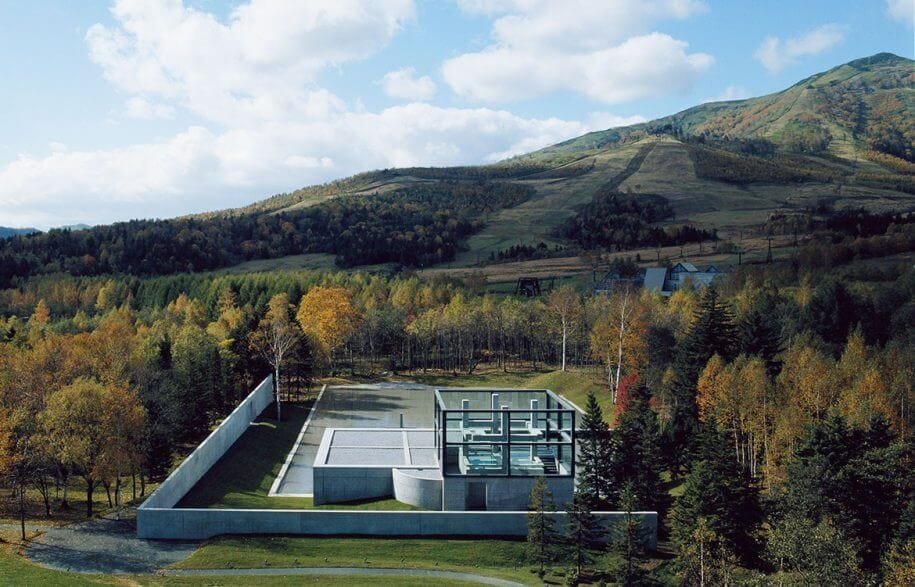 The materiality of his buildings makes an immediate impact. His formidable fortifications marked off territory. The tactile quality of his art provides a further impression. His solid walls are deceptively kind; they let in air, sunlight, and silence. The third impression of Tadao Ando's architecture is its emptiness, as the visitor is surrounded by nothing but an open, bright space.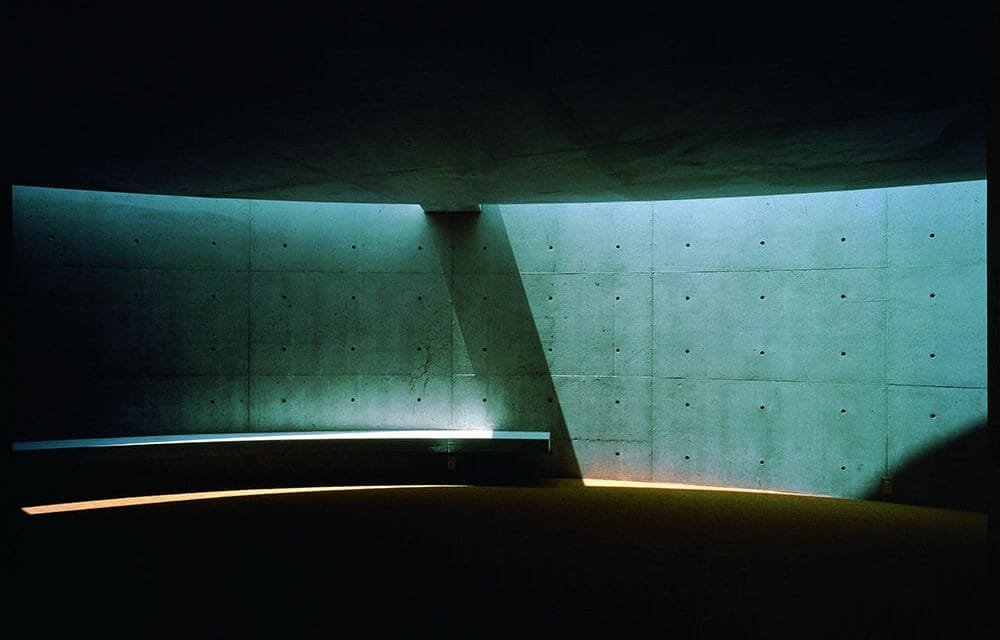 He works primarily in exposed cast-in-place concrete and is renowned for exemplary craftsmanship, which invokes a Japanese sense of materiality and a spatial narrative through the pared aesthetics of international modernism.
Ando's concrete is often referred to as "smooth as silk." He explains that the quality of construction does not depend on the mix itself but rather on the formwork into which the concrete is cast. Because of the tradition of wooden architecture" in Japan, the craft level of carpentry is very high. Wooden formwork, where not a single drop of water will escape from the seams of the forms, depends on this. Watertight forms are essential. Otherwise, holes can appear, and the surface can crack.
His form molds, or wooden shuttering (as it is called in Japan), are even varnished to achieve a smooth-as-silk finish to the concrete. The evenly spaced holes in the concrete, which have become almost an Ando trademark, result from bolts that hold the shuttering together. Ando's concrete is both structure and surface, never camouflaged or plastered over.
Tadao Ando has an extremely impressive oeuvre for an architect, with countless stunning architectural projects across Japan and the rest of the world. Though he got his start by designing private homes, it is impossible to cover all of his works as he has put his genius behind museums, office buildings, convention centres, factories, resorts, ateliers, theatres, a clinic, and perhaps most notably, houses of worship.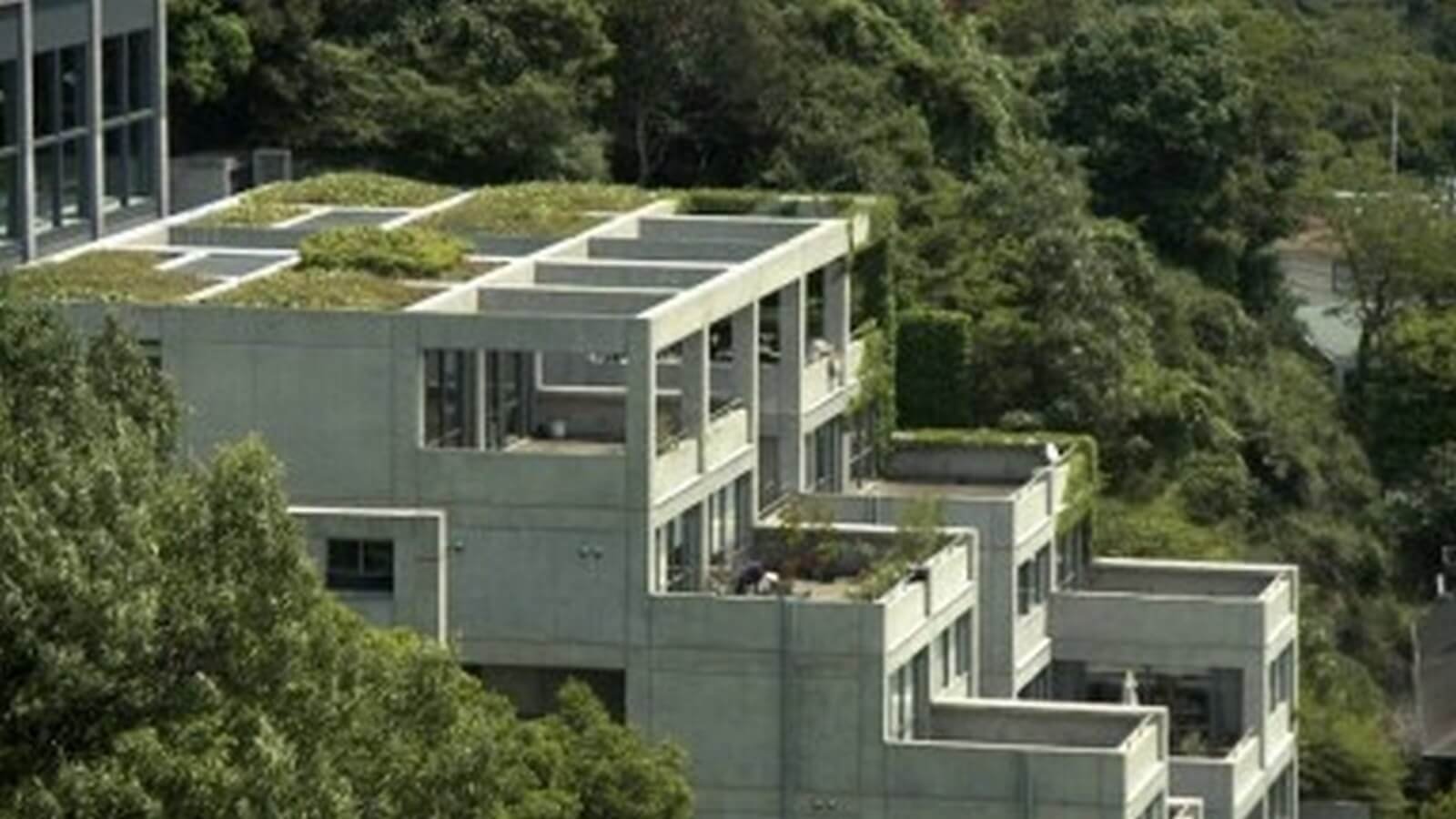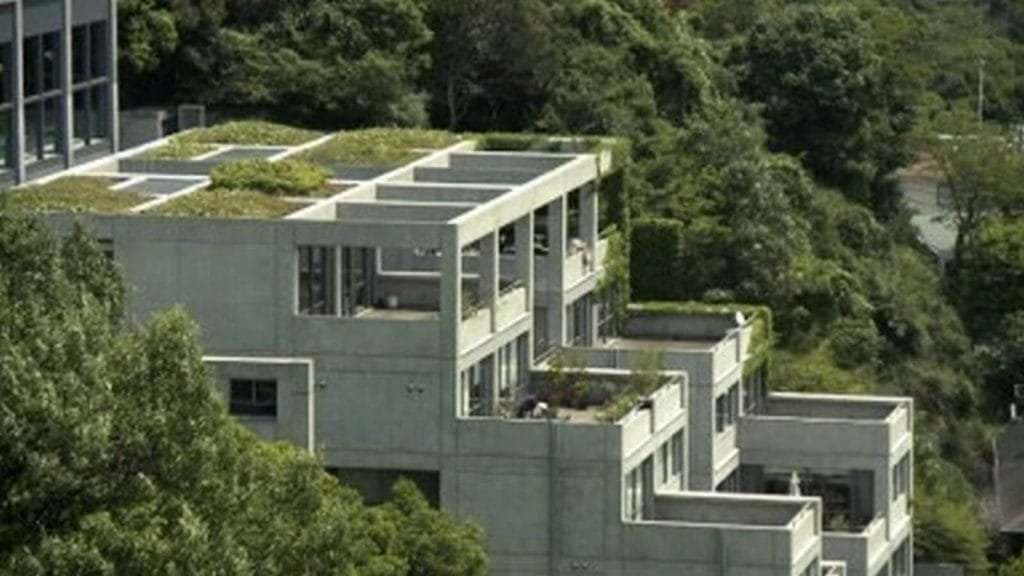 Rokko Housing I, II, III, Kobe
Some notable buildings which went on to help him earn a worldwide reputation are discussed below.
Tomishima Detached House: The Haiku Effect
His first construction project in 1973 was the Tomishima detached house, the first of a series of homes with similar features. The most significant is the Azuma house in Osaka (1976), which won awards in Japan and provided a springboard to international acclaim.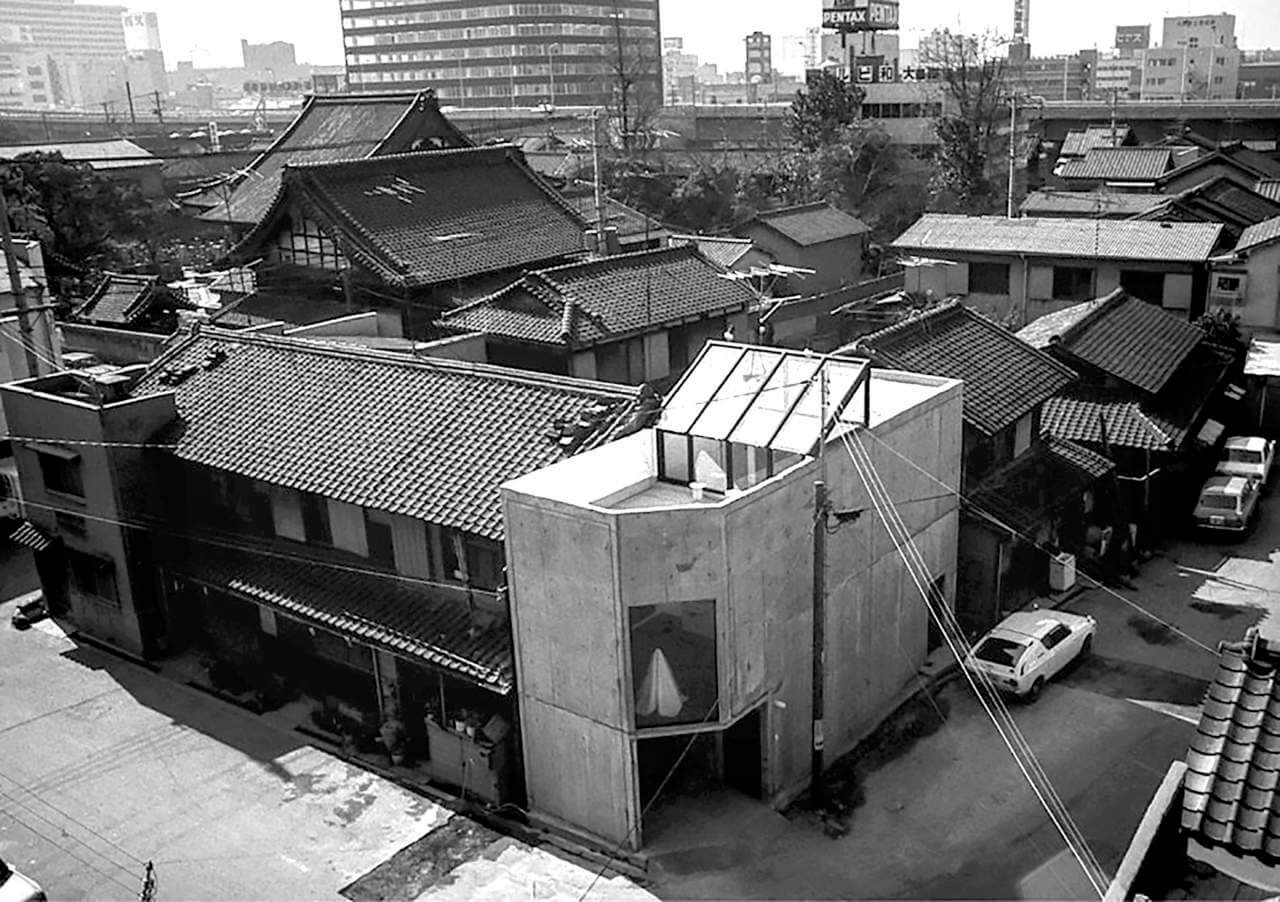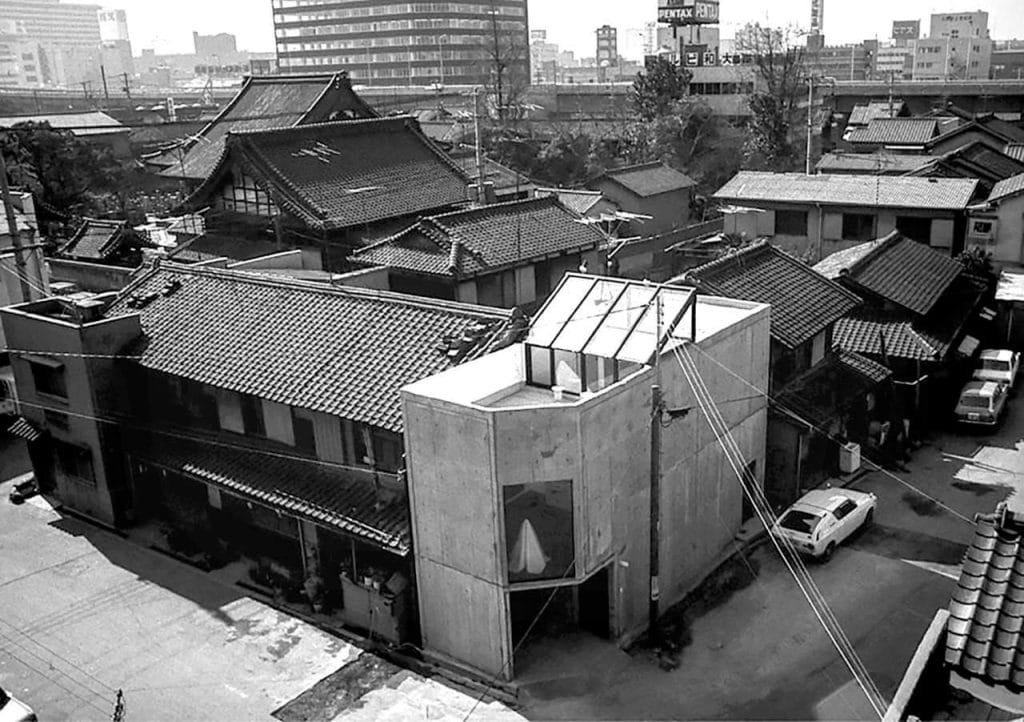 The 65 sq.m. house's pared-back, minimalist style confined by wooden townhouses is "the negation of a clear boundary between the courtyard space and interior, carried over from Japanese house-building traditions" (Baglione).
The Row House in Sumiyoshi (1976)
Also referred to as the Azuma House, this residential design encapsulates the stylistic preferences of Tadao Ando's earlier works.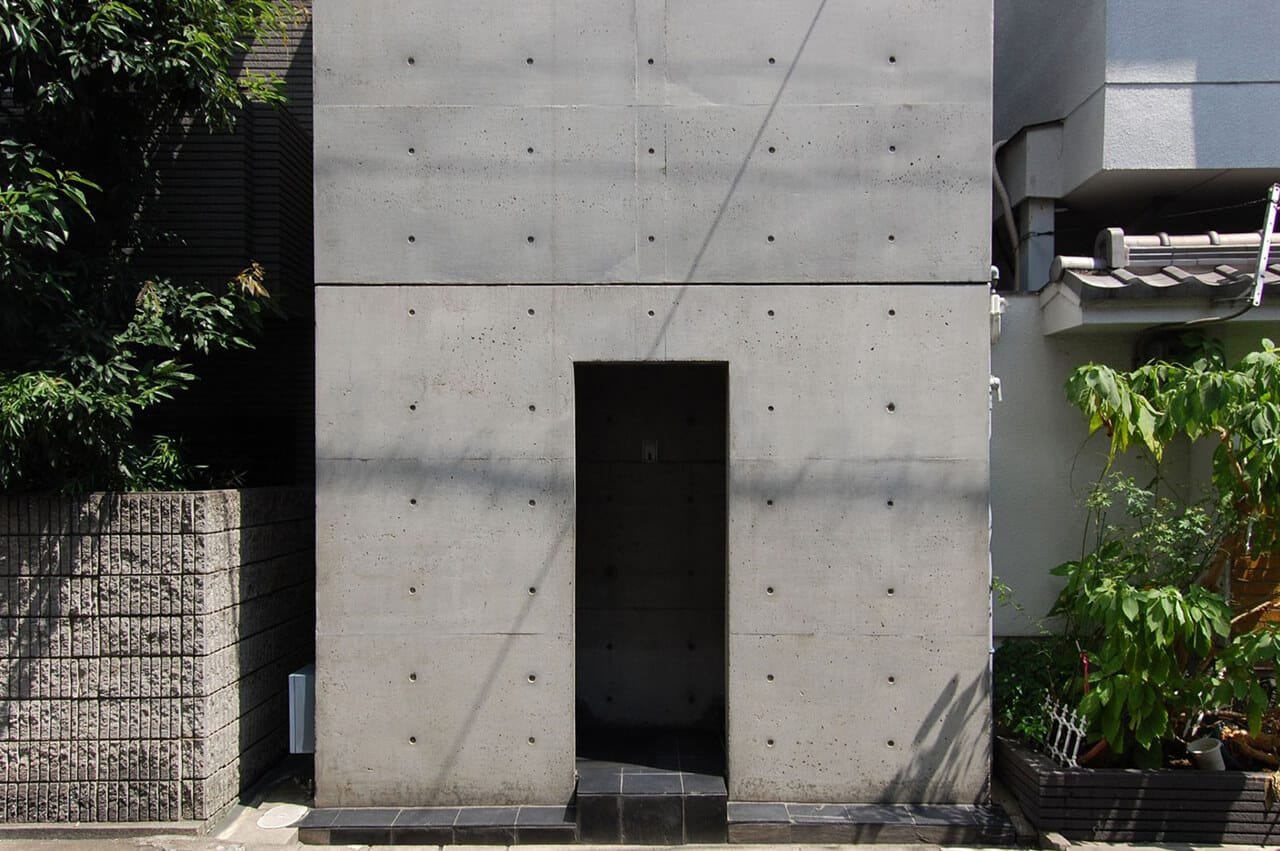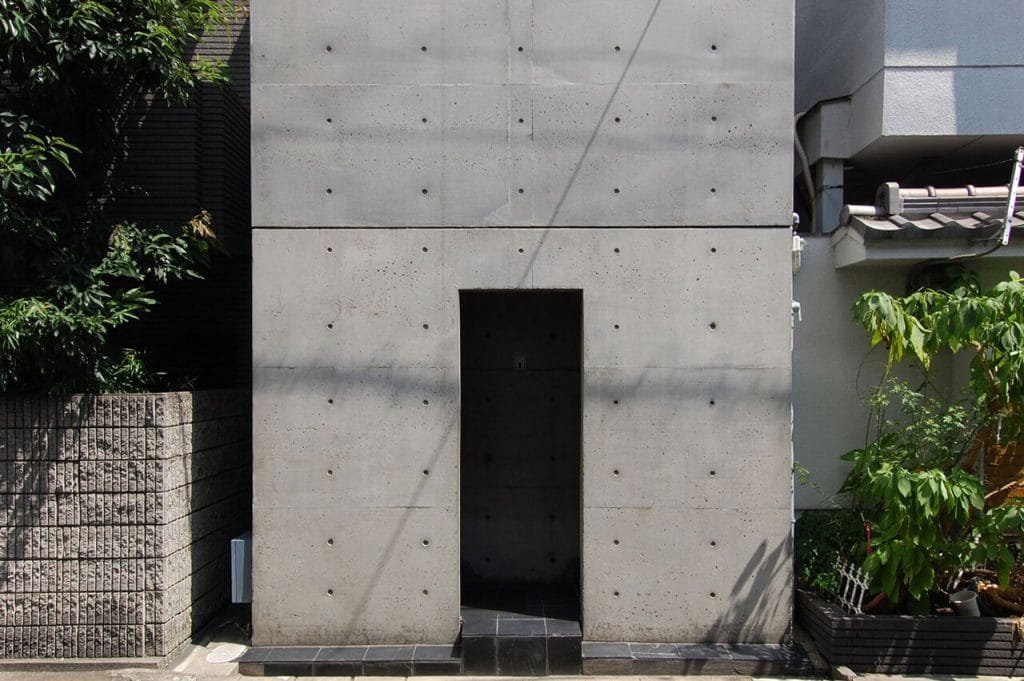 Staying true to the client's desire for a rural living experience amid a sprawling urban community, Ando kept the structural front windowless, preferring instead to draw in natural light through a courtyard and prioritizing complex circulation paths to play with the internal and external connectivity within buildings.
"In the Row House in Sumiyoshi, there is no water or green on the tiny site. 
By placing a courtyard in the central position of this small building, I attempted 
to bring elements of the natural environment - such as light or wind - into the everyday 
life of the residents. Architecture comes to existence only throught relation to 
various elements of the surroundings like water, green, light or wind." - Tadao Ando
1989's The Church of the Light by Tadao Ando
Similarly, another project reflecting Tadao Ando's signature work is the Church of Light. Located in the small town of Ibaraki (Osaka), the Christian temple exhibits Ando's mastery of light and lightness.
A massive cross divides the concrete facade of the church as its only source of natural light. The glowing cross captivates the visitors due to its simplicity and spiritual symbolism. The building inspires reverence and reflection on the secular and spiritual awareness of oneself.
"When it comes to design, I always carefully study the characteristics of that specific
 place, including its history and the surrounding environment. What is reflected in the 
projects is my own comprehension." -Tadao Ando
Tadao Ando's The Modern Art Museum of Fort Worth
The Modern Art Museum of Fort Worth in Texas is another creation of Tadao Ando that exemplifies the interplay between architecture and nature.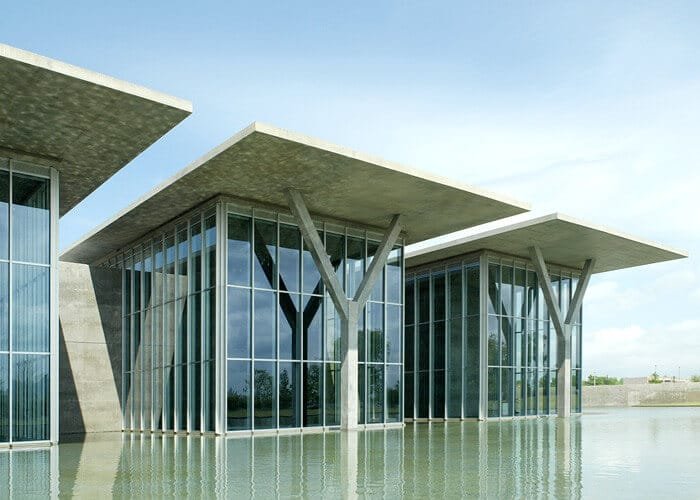 The simple geometry of the museum, dramatized by glass windows and elevated concrete, is given a dreamy touch by the surrounding water pond.
Water Temple by Tadao Ando in Honpukuji, Japan
Water is again the main attraction of Ando's modern design of the Shingon Buddhist Temple designed at Honpukuji.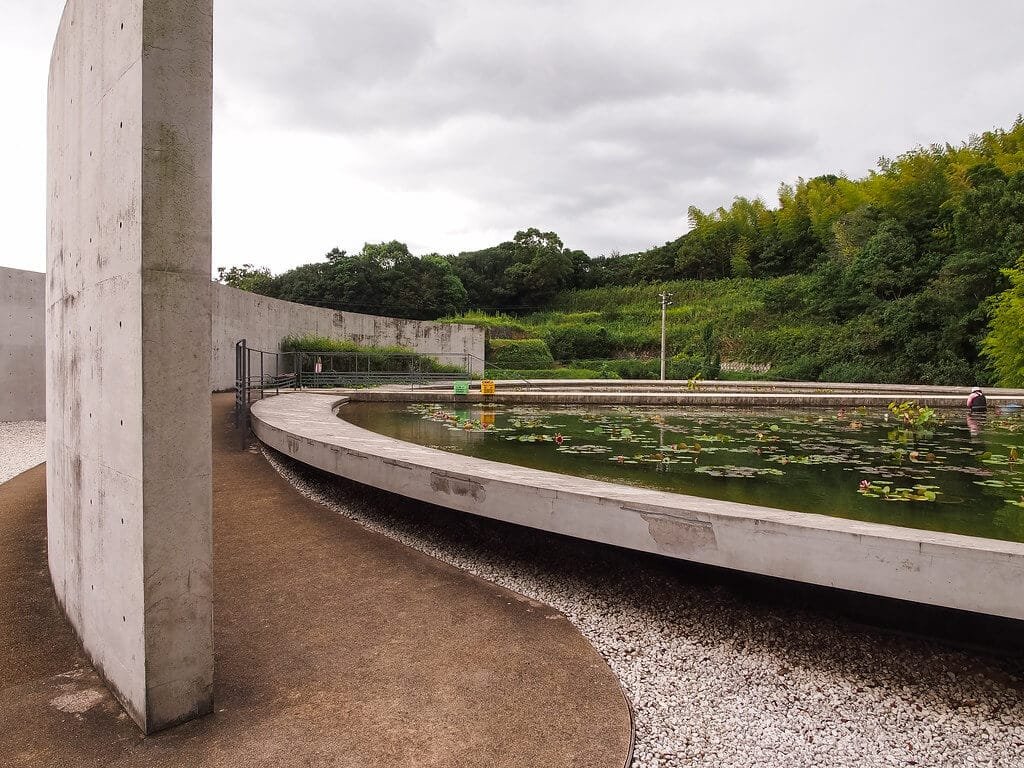 A pool of water reflects the looming structure and the surrounding natural beauty while also paving the way, via an underwater staircase, to the temple's inner sanctuary.
Therefore, in Ando's world, the individual is understood as an interrelated part of an ever-changing progression, called upon to create authentic values in close connection to the environment.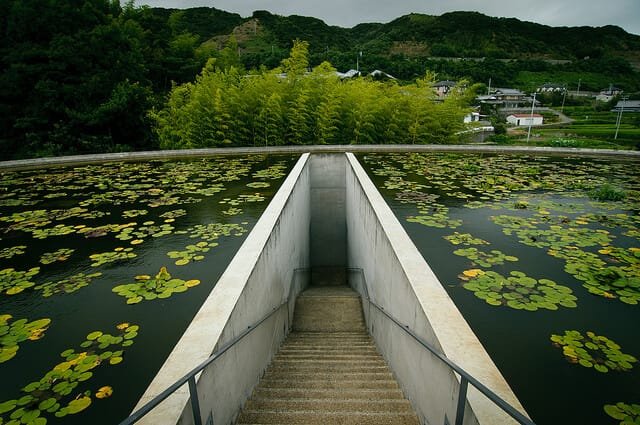 Consequently, architecture is a means that serves the construction of a future where the progression of the individual depends on the critical understanding of the past and its current effects. The future is not a physical construction but a nostalgic state where intelligence prevails.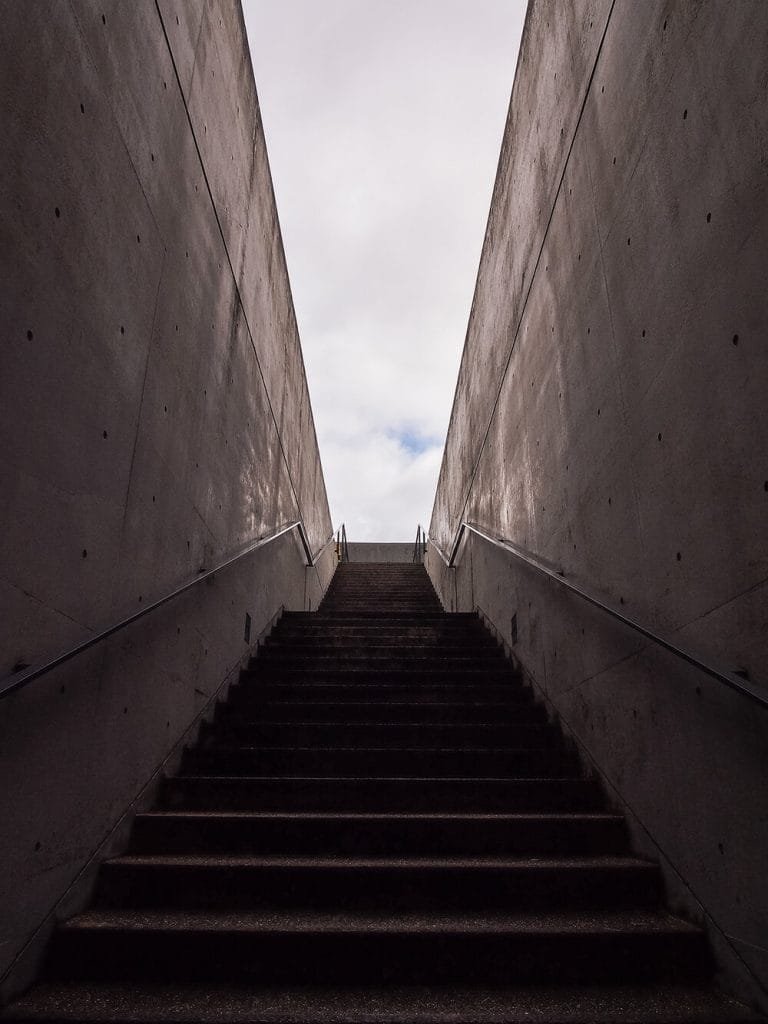 Stylistic Features of Ando's Designs:
The following trademark characteristics of Ando's architectural designs are notable in most of his projects.
Despite being an active patron of an artistic movement and inspired from le Corbusier, he doesn't compromise with the aesthetic features of his designs.
Designs favour natural area swallowed in concrete rectangular kinds – pure area and straightforward form.
The column is merely perceived as an emblem to denote cultural and historical significance.
In-depth use of concrete surrounds natural landscapes.
The Interior of the building area unit, the shape itself, ridicules the concept of masking it.
Simplified, one-dimensional forms and vacant, naked concrete walls outline the areas inside, contemporary architects.
Style- part of sunshine, water through concrete and glass.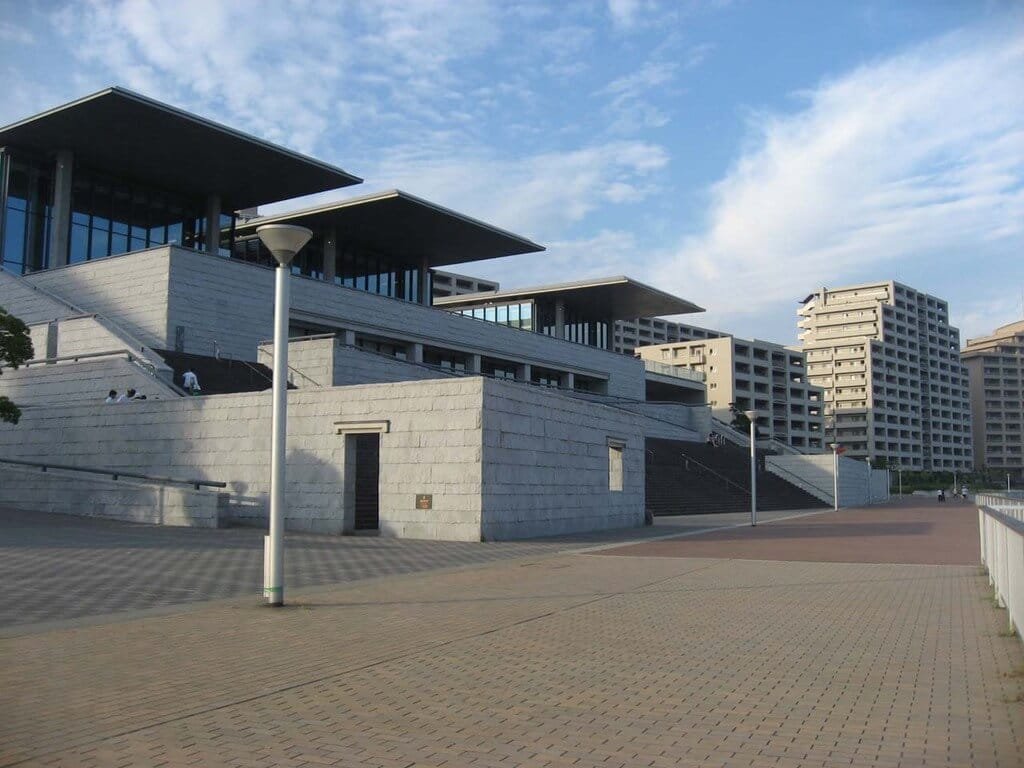 Quotes of Tadao Ando:
"In all my works, light is an important controlling factor."
"I create enclosed spaces mainly by means of thick concrete walls."
"When the external factors of a city's environment require the wall to be without openings, the interior must be especially full and satisfying."
"I create architectural order on the basis of geometry squares, circles, triangles, and rectangles.
"I try to use forces in the area where I am building to restore the unity between house and nature (light and wind)."