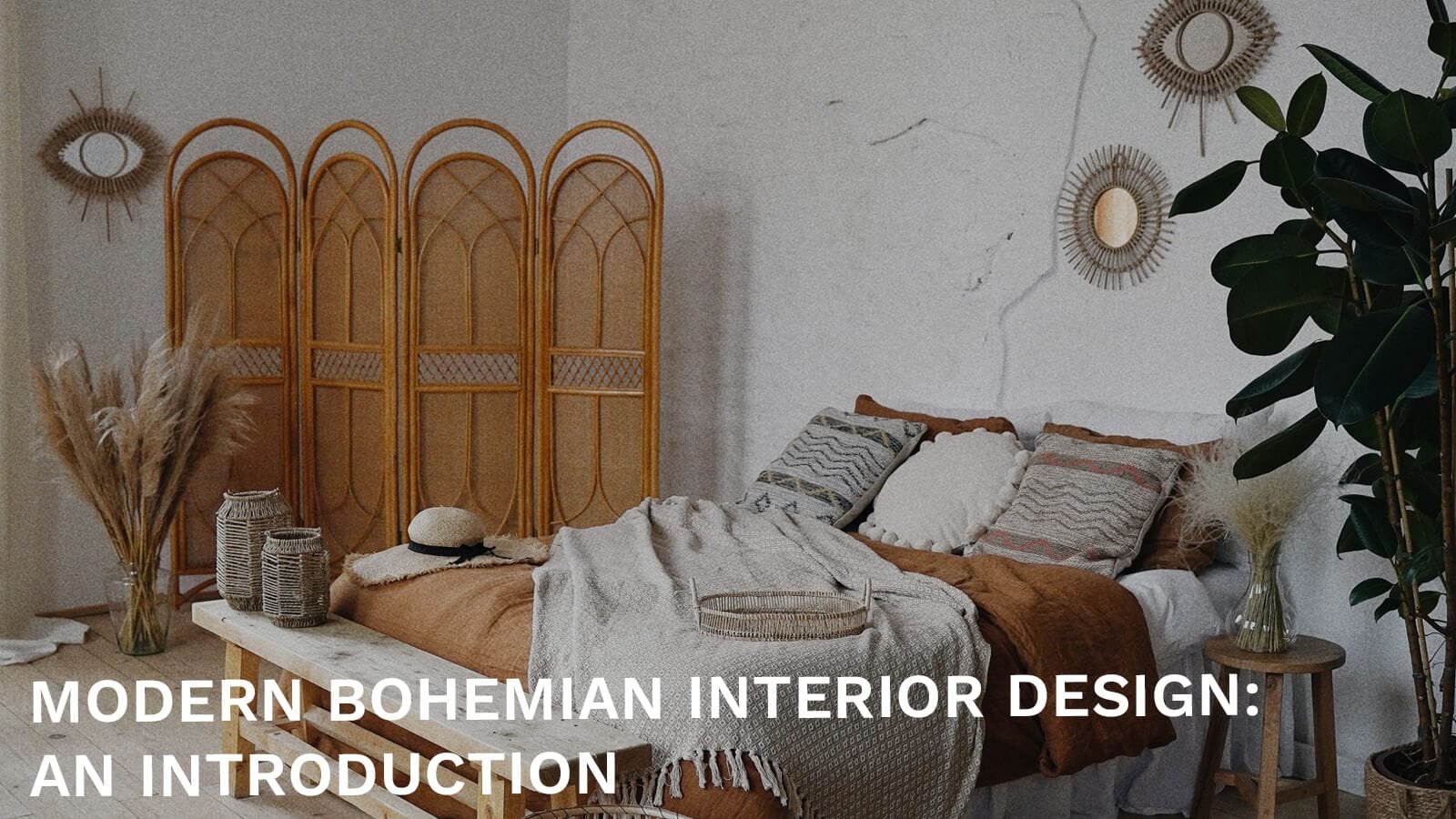 Modern Bohemian Interior Design: An Introduction for You
Modern bohemian interior design is an eclectic interior design style that combines elements of modern and traditional aesthetics. It's characterized by bright colors, bold patterns, light textures and natural materials, all in all with a muted and calm feeling. This look is all about creating a cozy atmosphere with interesting furniture pieces, unique lighting fixtures and mix-and-match decor items.
Modern Bohemian Interior Design is more than just a decorating style; it's an expression of individuality and creativity. Rooted in the free-spirited ethos of the bohemian culture, this design trend marries unconventional aesthetics with modern sensibilities. Unlike the traditional bohemian style that thrives on maximalism, the modern take is about finding a balance between eclectic elements and contemporary flair. The bohemian style of interior design dates back to the 1800s in Paris, France. Whether it's through vibrant colors, intricate patterns, or an amalgamation of textures, this design breathes life into spaces, turning them into intimate reflections of one's persona.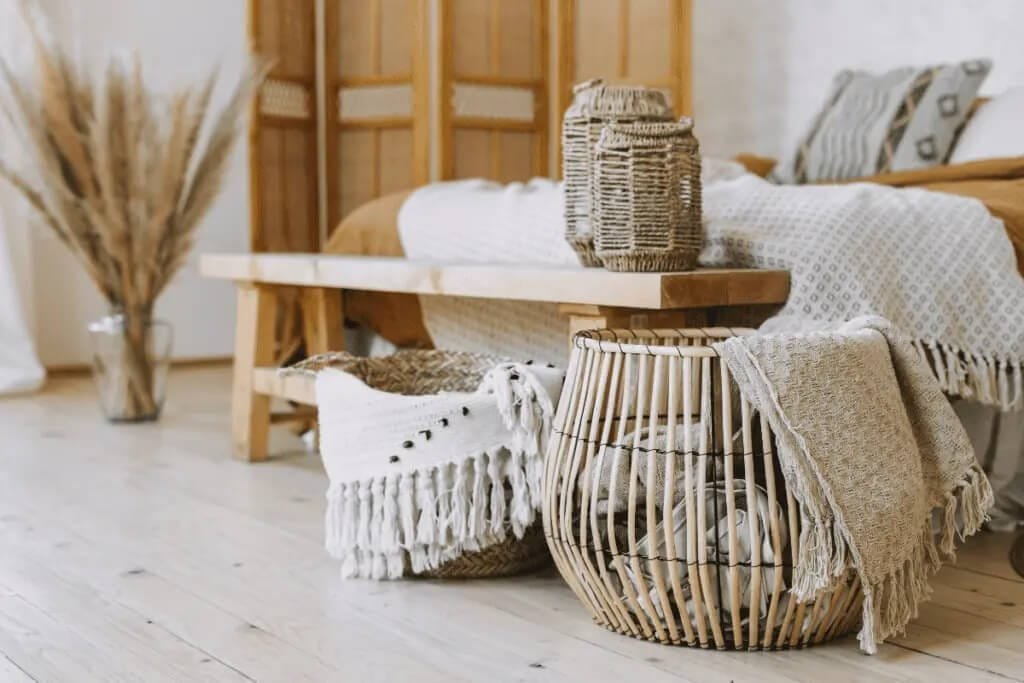 Origins of Boho Design or Bohemian Interior Design
Historically, the term 'Bohemian', often referred to as "boho", referred to people living unconventional lives, notably artists, writers, and intellectuals. Derived from the French word 'Bohémien,' used to refer to a particular group of people, gypsies, who traveled from Bohemia, a region in the Czech Republic. The Bohemians were wanderers, free spirits, and nomads and their lifestyles influenced the Bohemian design ethos, which celebrates individuality, freedom and creativity is more valuable than money.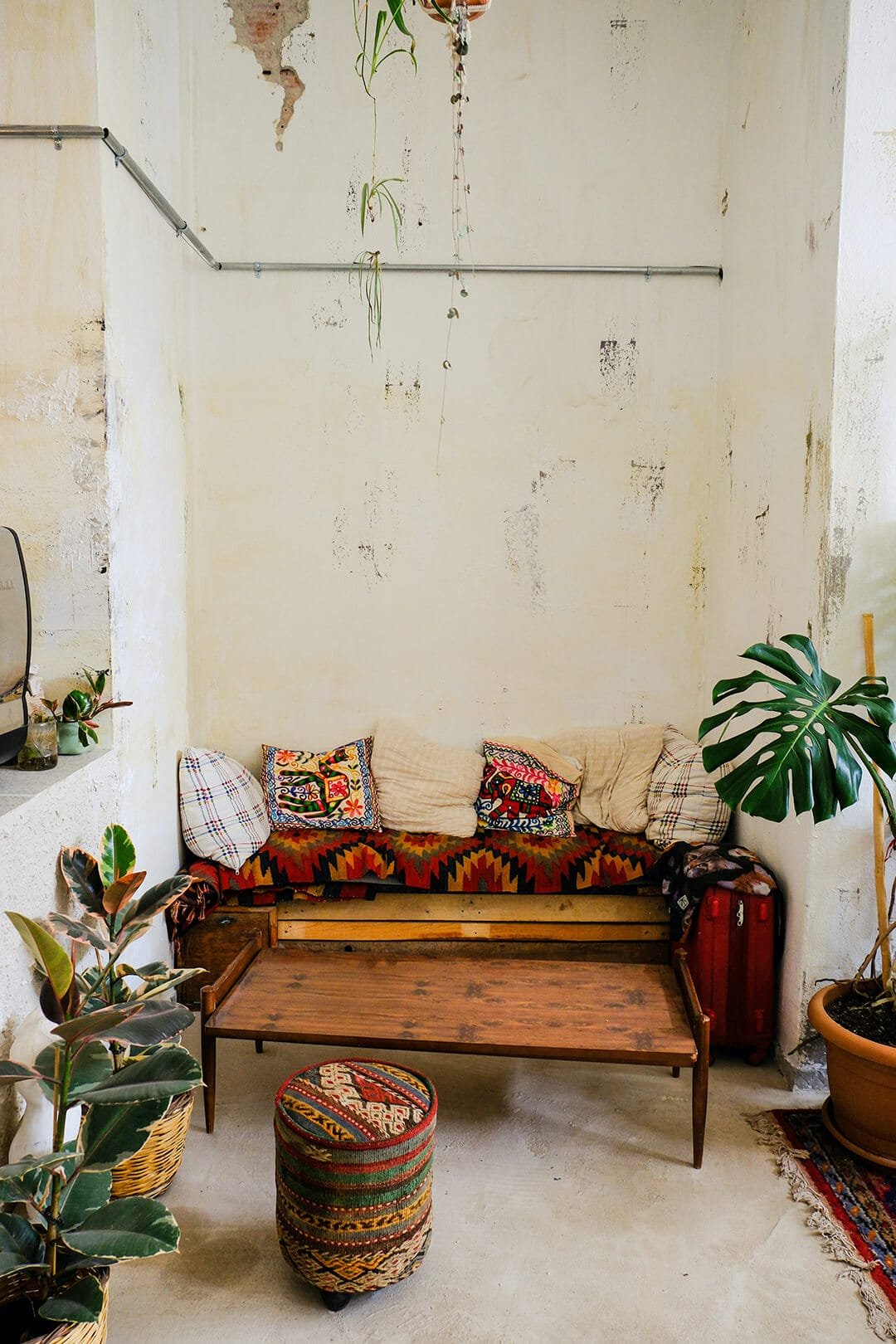 This design philosophy is a harmonious blend of old and new, traditional and contemporary, creating spaces that are both comfortable and aesthetically pleasing. Décor, art, furnishings, and even finishes don't have to match and often don't. Instead, bohemian design emphasizes choosing pieces that express your own unique personality and bring you joy and a sense of warmth, regardless of whether they fit into a color scheme.
Boho or bohemian design gained significant popularity in the 1960s and 1970s during the hippie movement. Its modern resurgence can be attributed to the rise of social media platforms like Pinterest and Instagram, where unique and personalized home décor is celebrated.
Define Modern Bohemian Interior Design and Why it Has Become So Popular
Have you heard of boho? It seems to be everywhere – from fashion to music, to interior design. The bohemian style has been slowly picking up steam over the past few years and it looks like it's here to stay.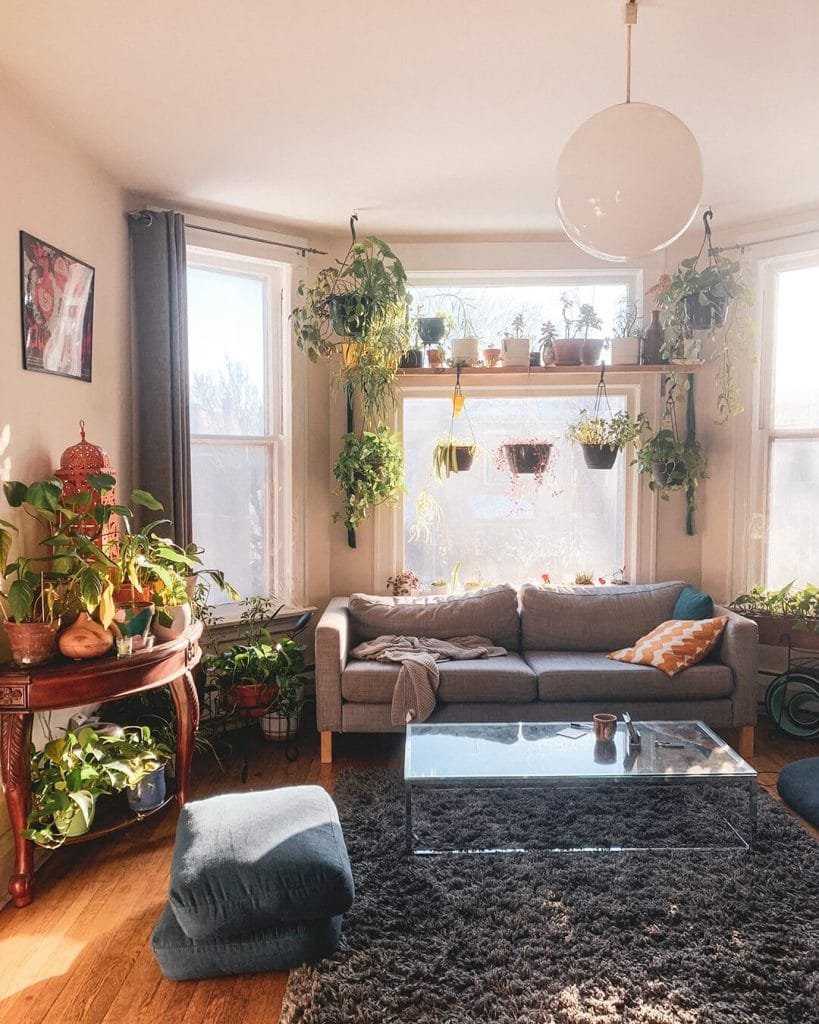 While traditional bohemian design colors are bold and bright, the modern version leans towards muted neutral tones with occasional pops of vibrant shades.
Modern Boho Interior Design style is a beautiful way to create an inviting home with just the right balance of contemporary, simplicity, neutral, and eclectic flair. From bold colors and textures, unexpected pattern mixes, natural materials, and global influences – this aesthetic is all about expressing your own unique personality in your space via interior and decor!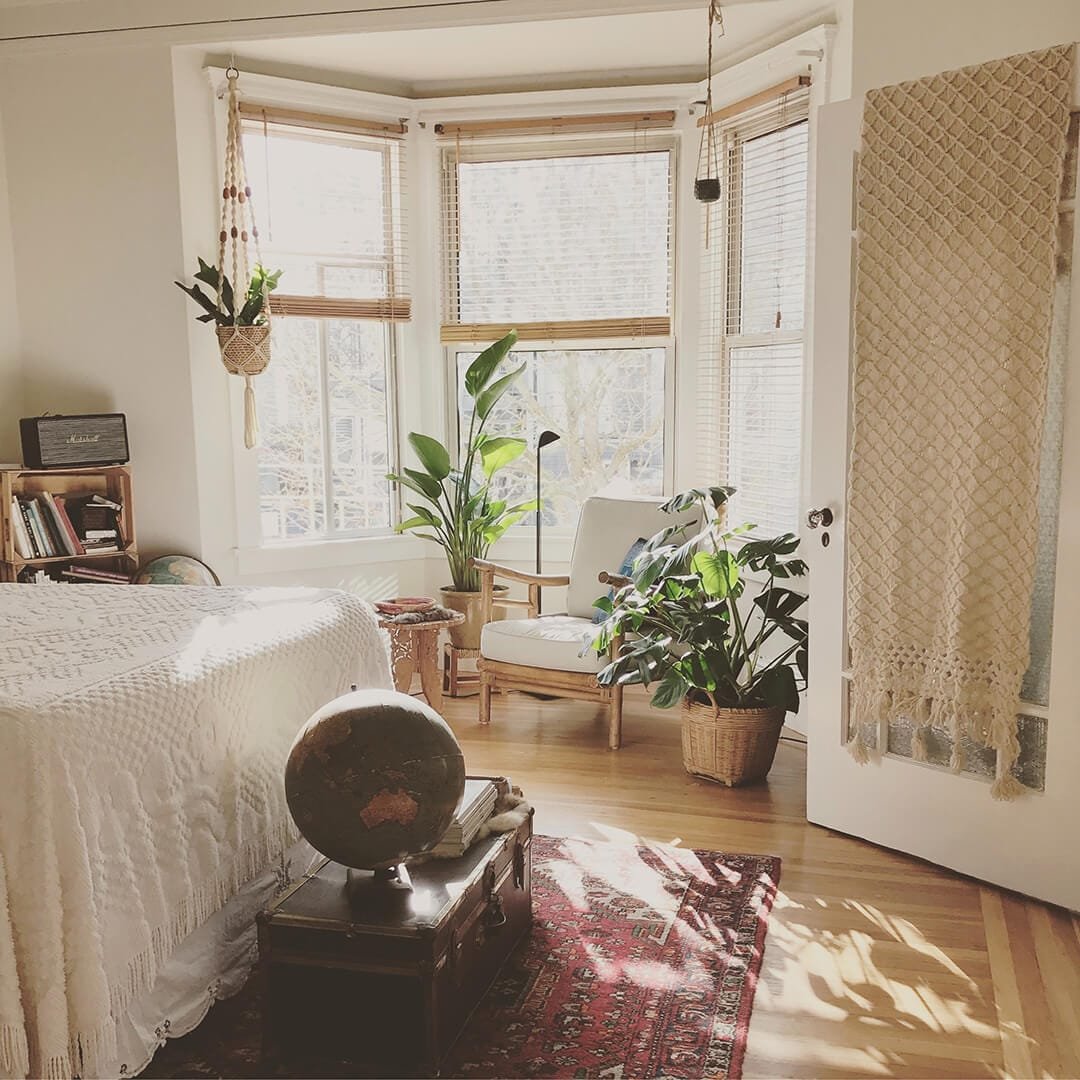 Modern Bohemian vs. Traditional Bohemian
While the core essence remains the same, the Modern bohemian interior design style is a more refined version of its traditional counterpart. It's less about clutter and more about curated collections.
The color palettes are more controlled, and there's a greater emphasis on balance and harmony. Modern Bohemian interiors are sophisticated yet relaxed, making them perfect for contemporary living, and bohemian decor are all about colors, patterns, patterns, and enticing textures.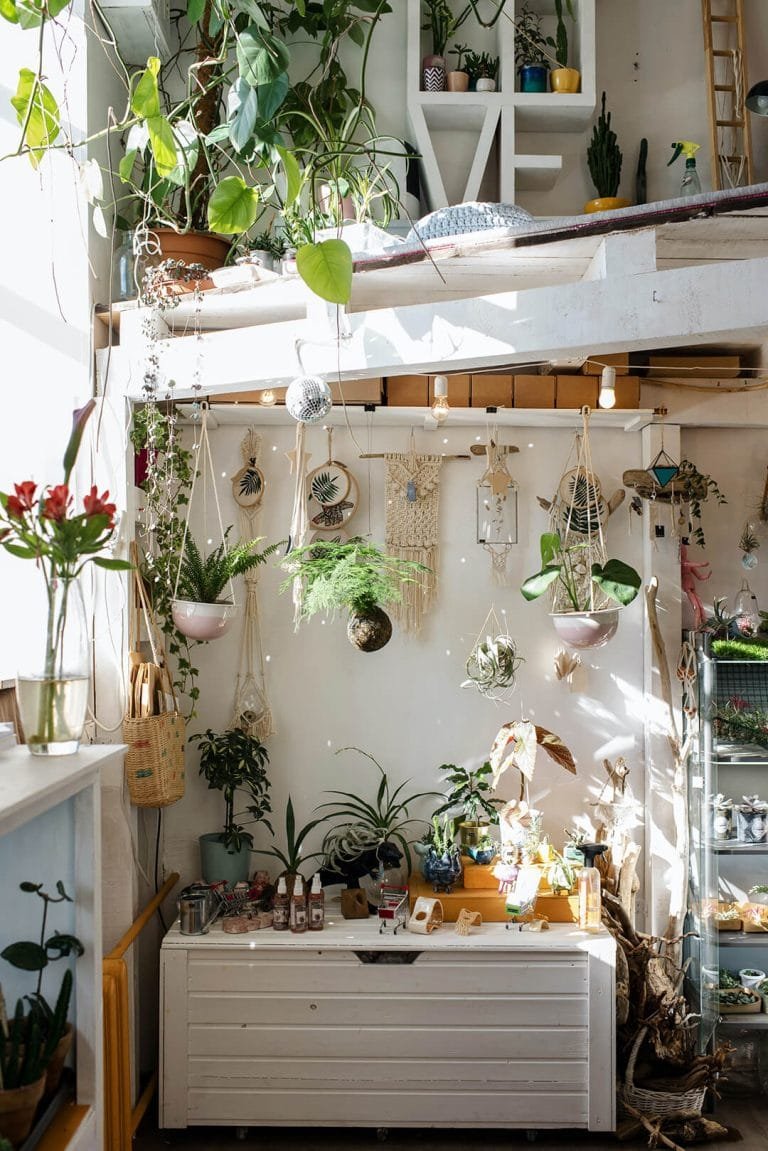 "If you're just starting, you can get some colorful throw pillows for the sofa, maybe a quilted blanket," –Edyta Haligowska.
Key Features of Modern Bohemian Design
Color Palettes: While traditional bohemian interior colors are bold and bright, the modern version leans towards muted tones with occasional pops of vibrant shades.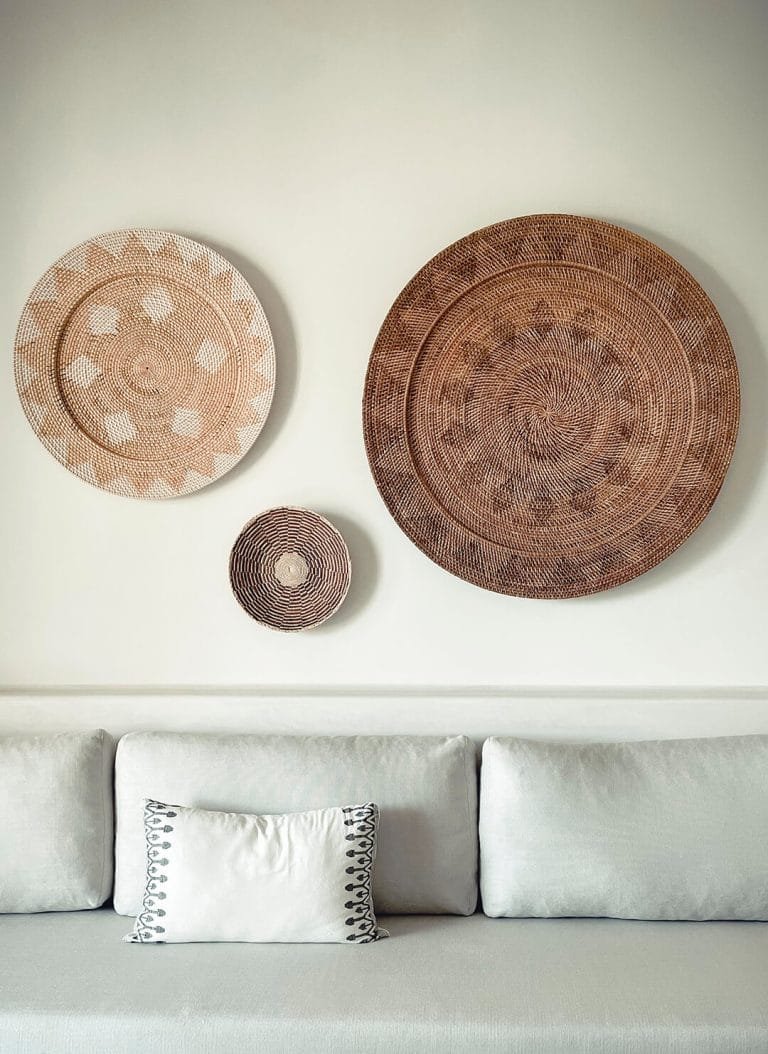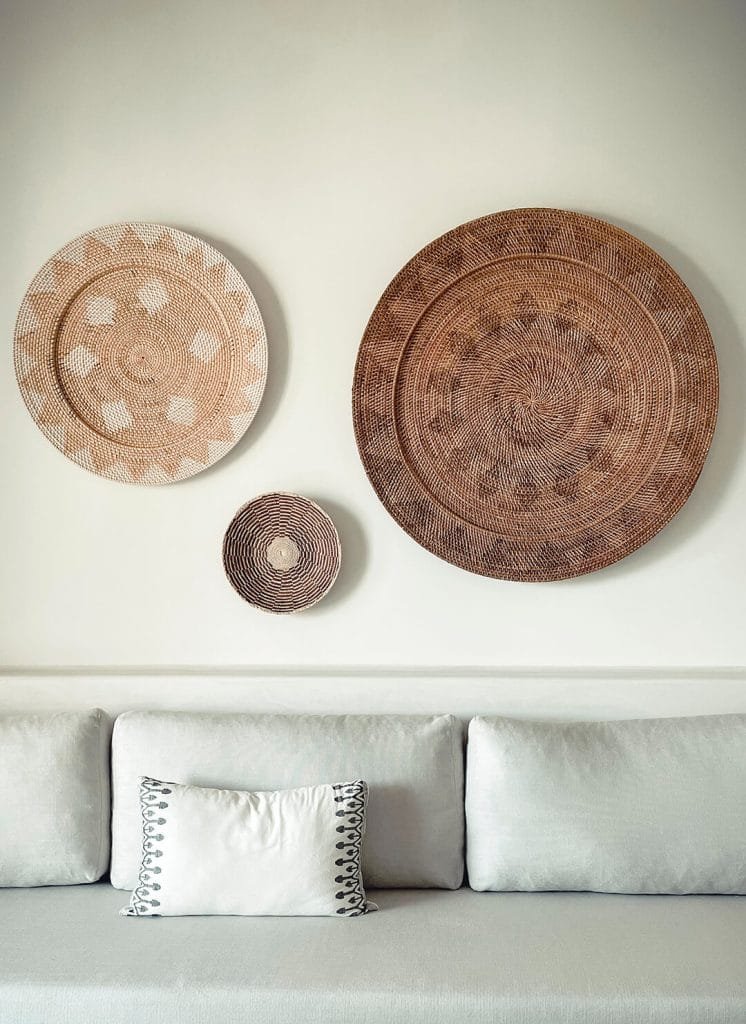 Textural Play: From macramé wall hangings to knitted poufs, from base color vibrant tapestries to creating warmth with textiles from cozy area rugs to throw pillows and blankets. Textures are an integral part of any Bohemian interior design space.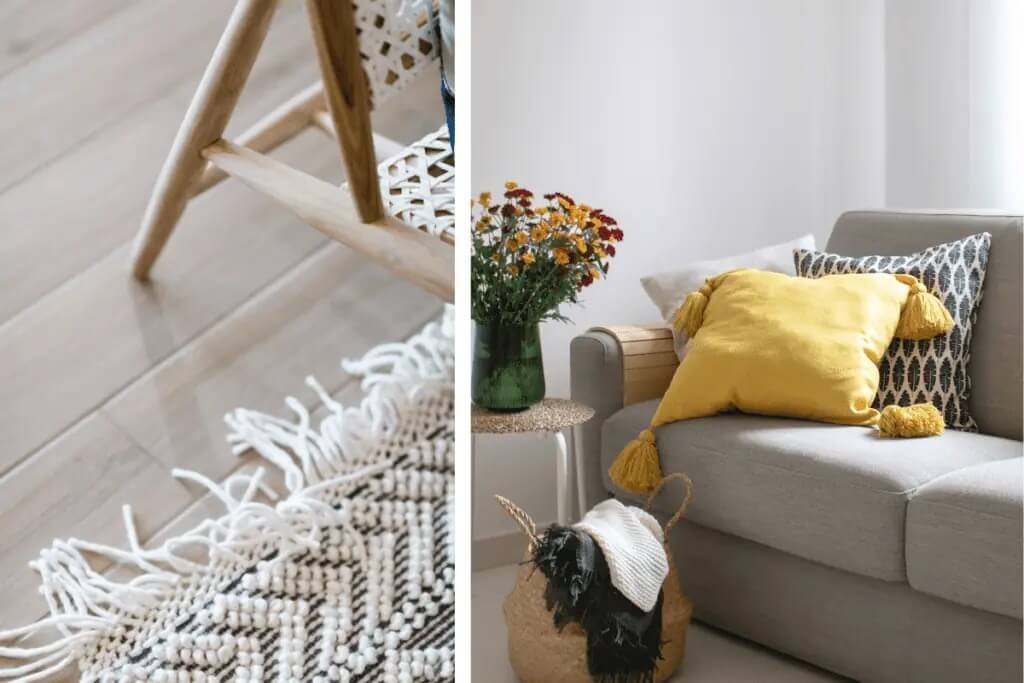 Mix and Match: Modern bohemian interior design style embraces an eclectic mix of furnishings and décor, combining new items with vintage finds. Don't be afraid to combine different styles and eras. Metallic finishes like gold, brass, silver, and chrome are very popular because they gives theme a permanent look.
Nature Indoors: The bohemian interior design style theme isn't complete without plants, plants and more plants. Interior design in Boho style aims to give off a calm, earthy vibe. Which can be achieved with inclusion of many many plants.
Sustainability: Modern bohemian interior design often prioritize sustainability. Vintage furniture, second-hand tiles in bathroom, or upcycled decor items are common in boho spaces, reflecting a commitment to reducing waste.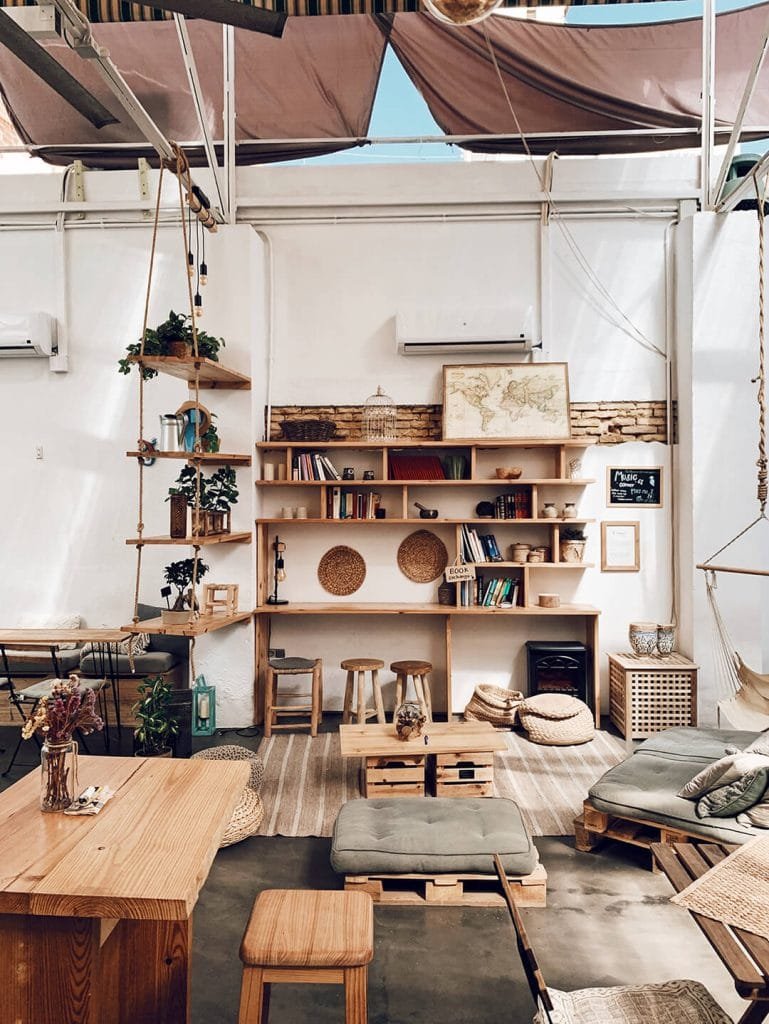 Add Personal Touches: Modern Bohemian interior design is all about personal expression. Incorporate pieces that have sentimental value or tell a story. Like a painting on the wall which has a color palette that add visual to your boho style interior and compliments your style of interior design. Because its one of few personal interior design styles out there.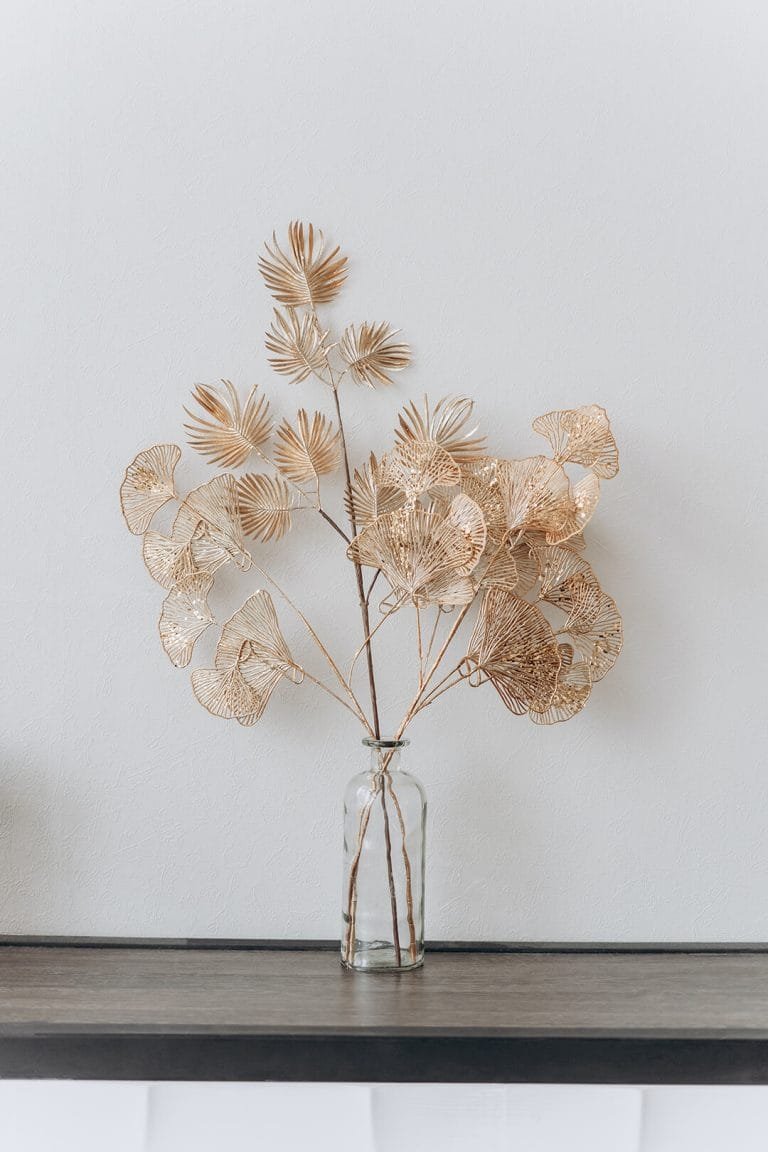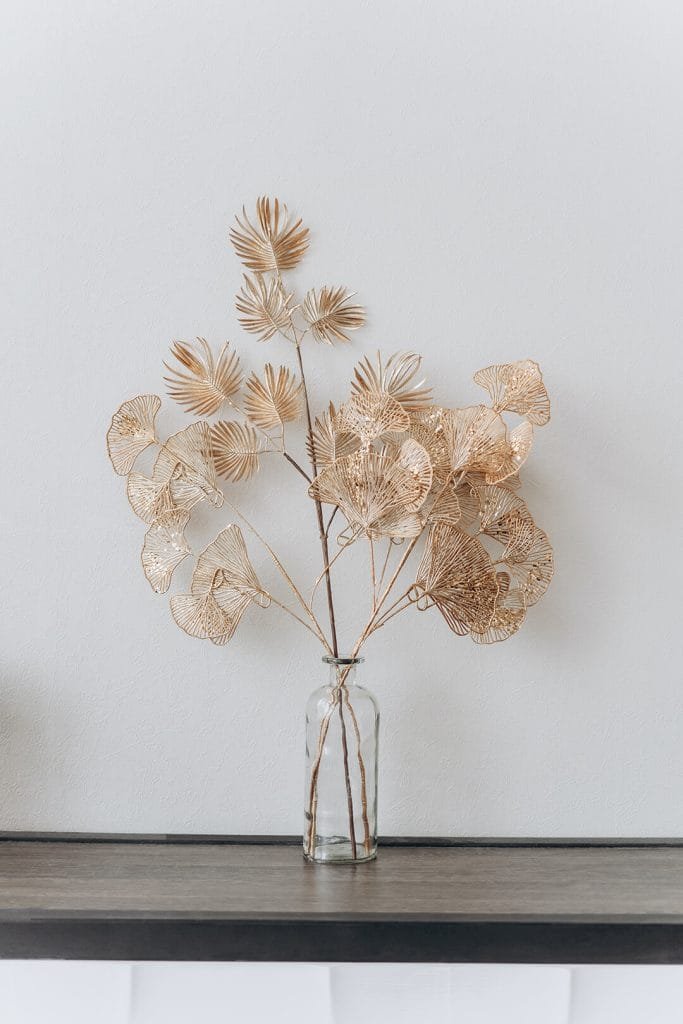 Flexibility: Adaptability is one of the reasons for its popularity with this design. Modern bohemian can be blended with other design styles, such as Scandinavian (often termed "boho Scandi") or minimalist. Regardless of year, bohemian interior design encourages the use of vintage with a focus on texture.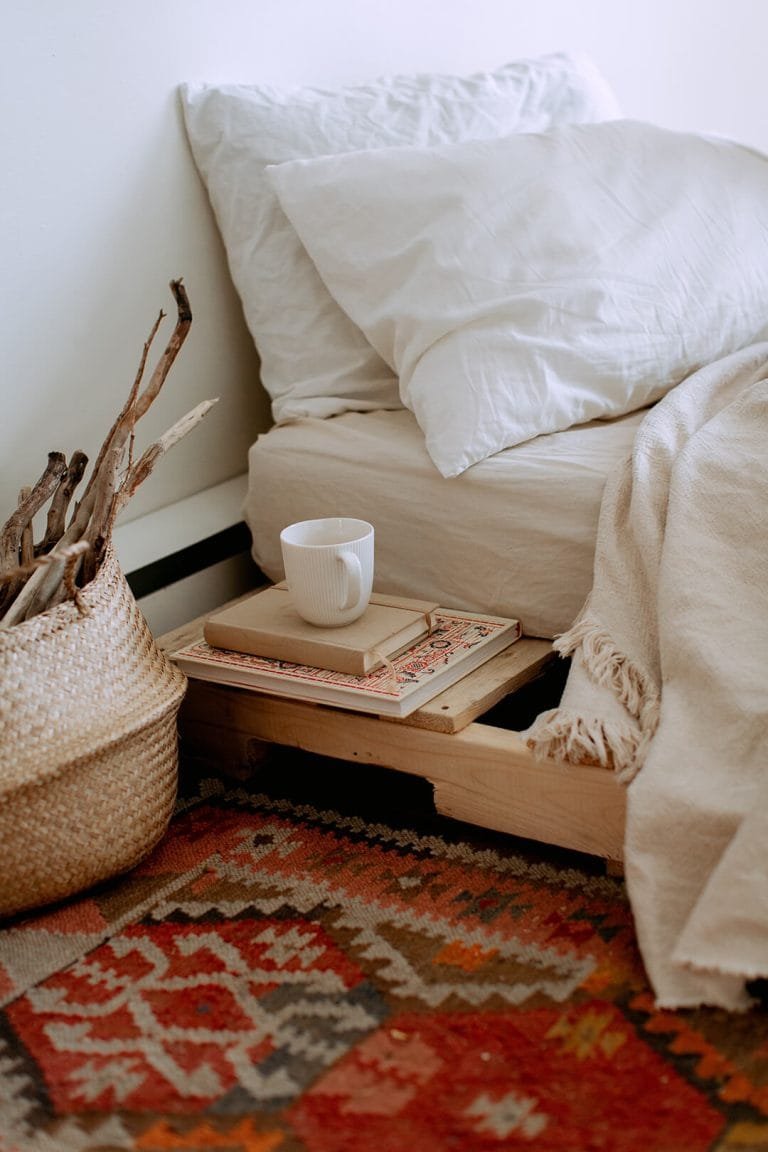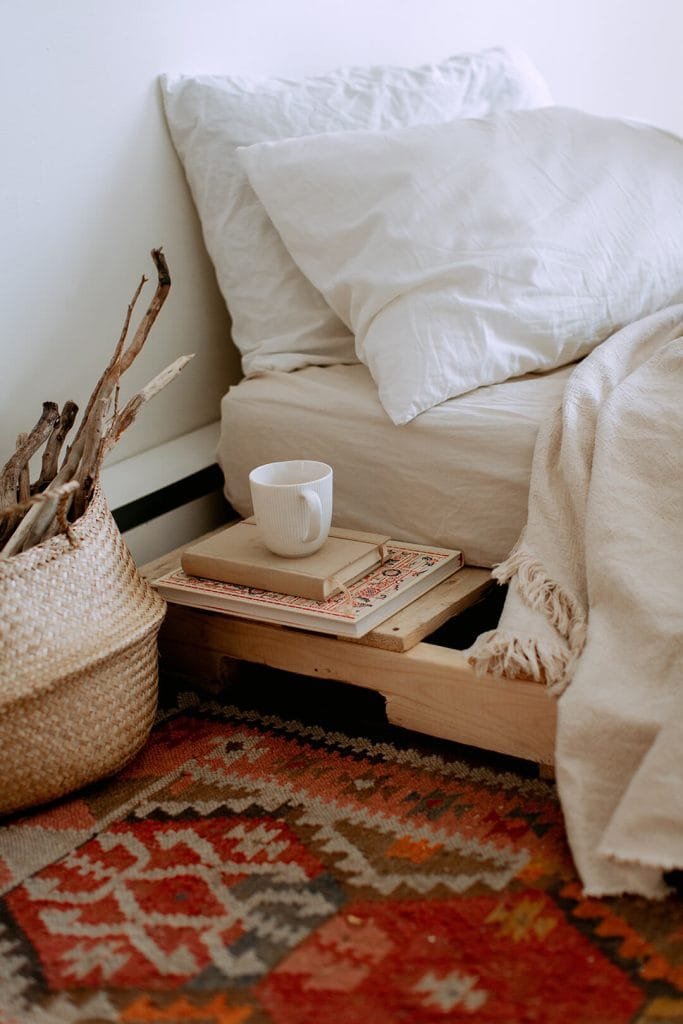 Tips for Keeping Your Modern Boho Aesthetic Fresh and Up-to-Date
Since this design is inspired by nomads and artists, it makes sense that original works of art like paintings, rugs, macramé, statues, or quilts are used to decorate.
Keeping your modern boho aesthetic fresh and up-to-date doesn't have to be difficult or expensive.
-Add in New Accessories: An easy way to give your room an instant update is by introducing new accessories. Look for colorful vases, art prints, rugs, and other statement pieces to add some fresh energy into the space.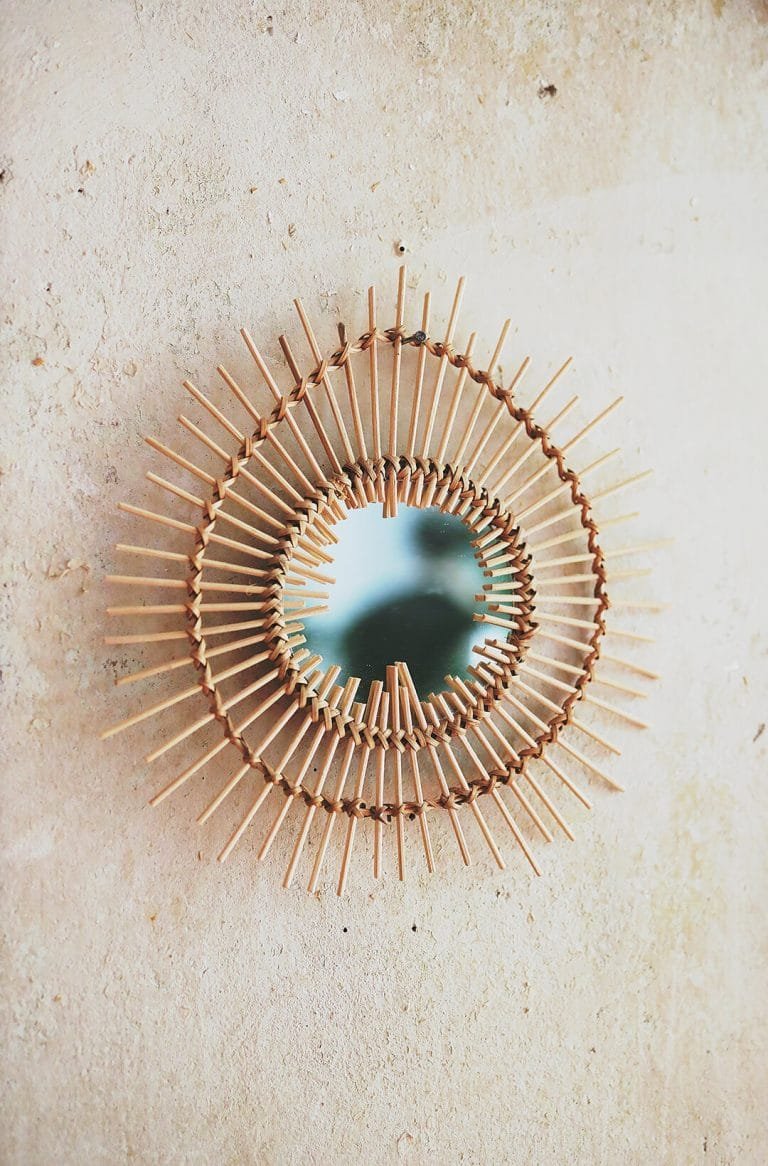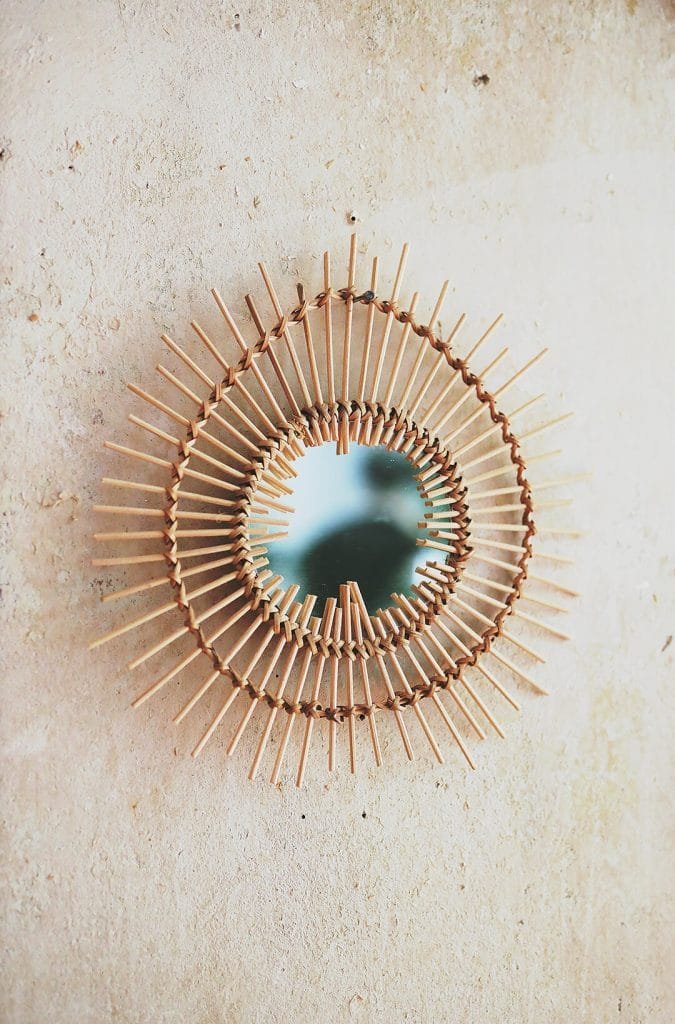 -Play with Your Likes and Dislikes: If you feel that the texture and patterns in your modern living room space are not enough, don't hesitate to experiment, Add more, including hand-woven wicker chairs or rattan woven baskets and storage. Website like Etsy are also rife with playful bohemian interior design decor and pieces.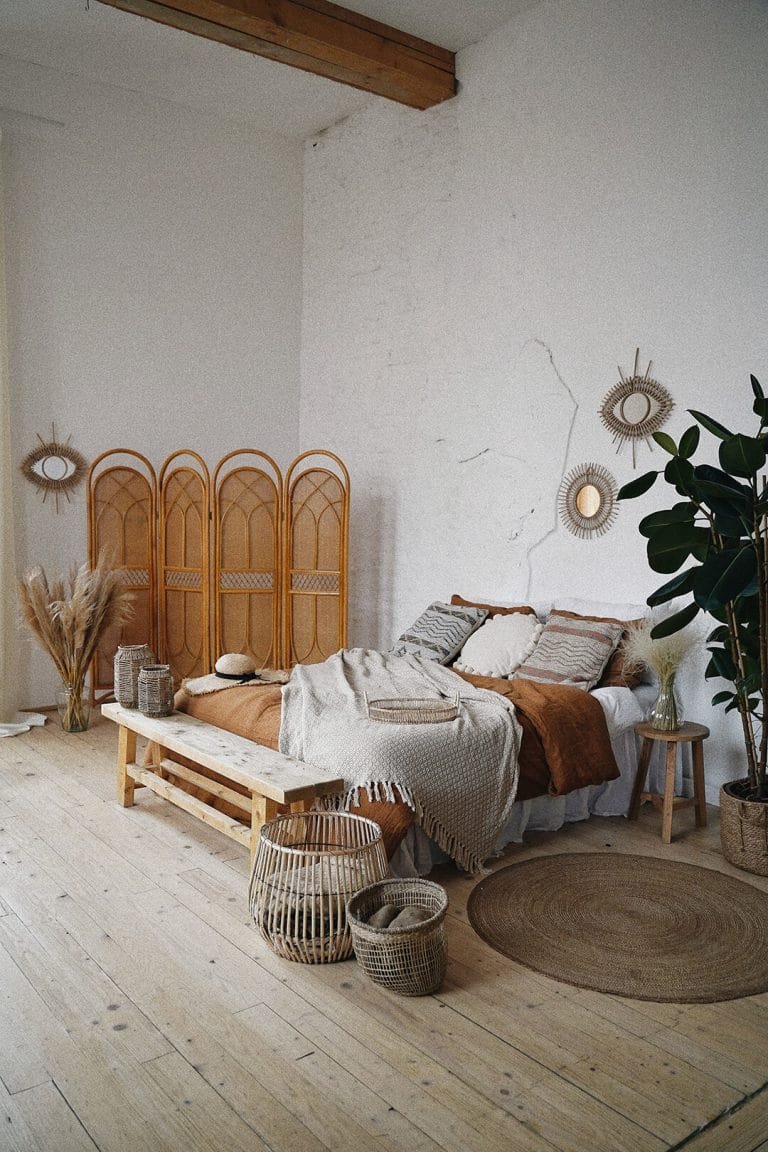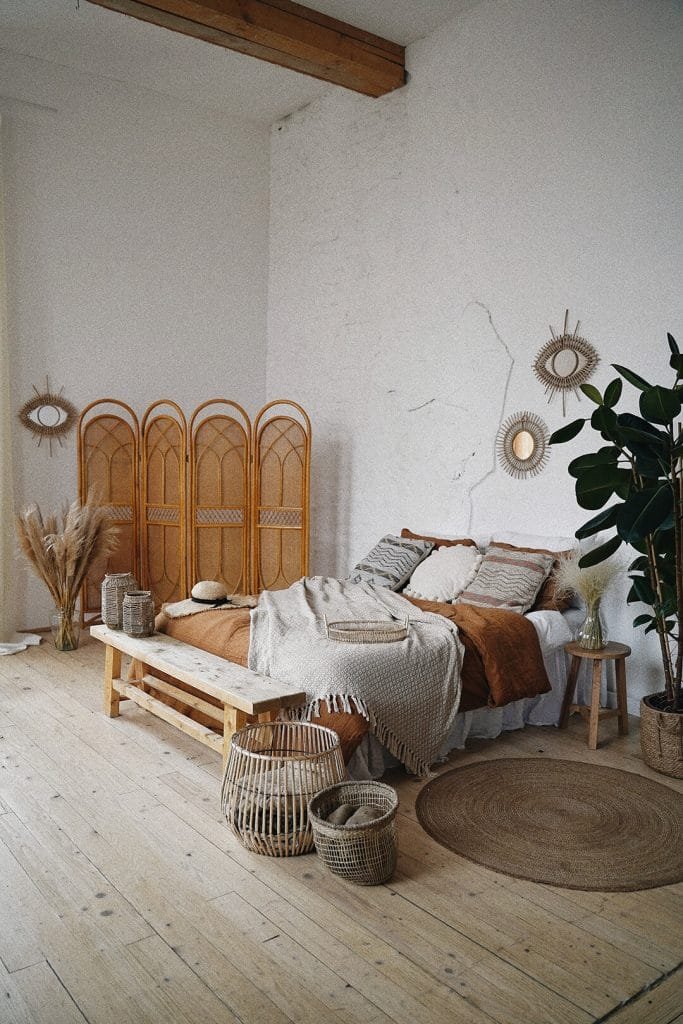 -Mix Contemporary Pieces with Vintage Finds: When it comes to decorating a modern boho space, mixing contemporary pieces with vintage finds is key. This will add character and interest to the room, while still maintaining a cohesive aesthetic.
With these tips, you can easily keep your modern boho aesthetic fresh and up-to-date without breaking the bank. So go ahead and start making changes – your home will thank you! Good luck!
Final Thoughts
Modern Bohemian interior design is more than just a trend; it's a reflection of individuality and a celebration of global influences, eclectic mixes, and vibrant expressions. Whether you're a seasoned decorator or just starting, the boho style offers a world of inspiration.
Creating a modern boho space is a great way to express your unique style and create an inviting atmosphere. Whether you choose bold colors or opt for more muted tones, incorporating texture, lighting, patterns, materials, and natural elements can help to bring the look together.
Don't forget about lighting fixtures and accessories as well – these pieces can help to tie the overall scheme together. With these tips, tricks, and ideas, you'll be able to transform any room into a cozy oasis in no time! So get inspired, experiment with colors and textures, and don't be afraid to make mistakes – that's part of the fun!
You'll be amazed by the transformation once you've finished as this style of bohemian interior is about creating homes that are as unique as the individuals who inhabit them. Happy decorating!
If you have any questions or query regarding your interiort design project whether its related to boho styled living room or luxury bathroom lighting, we are here to help you. Set up a free interior design consultation and get started right away.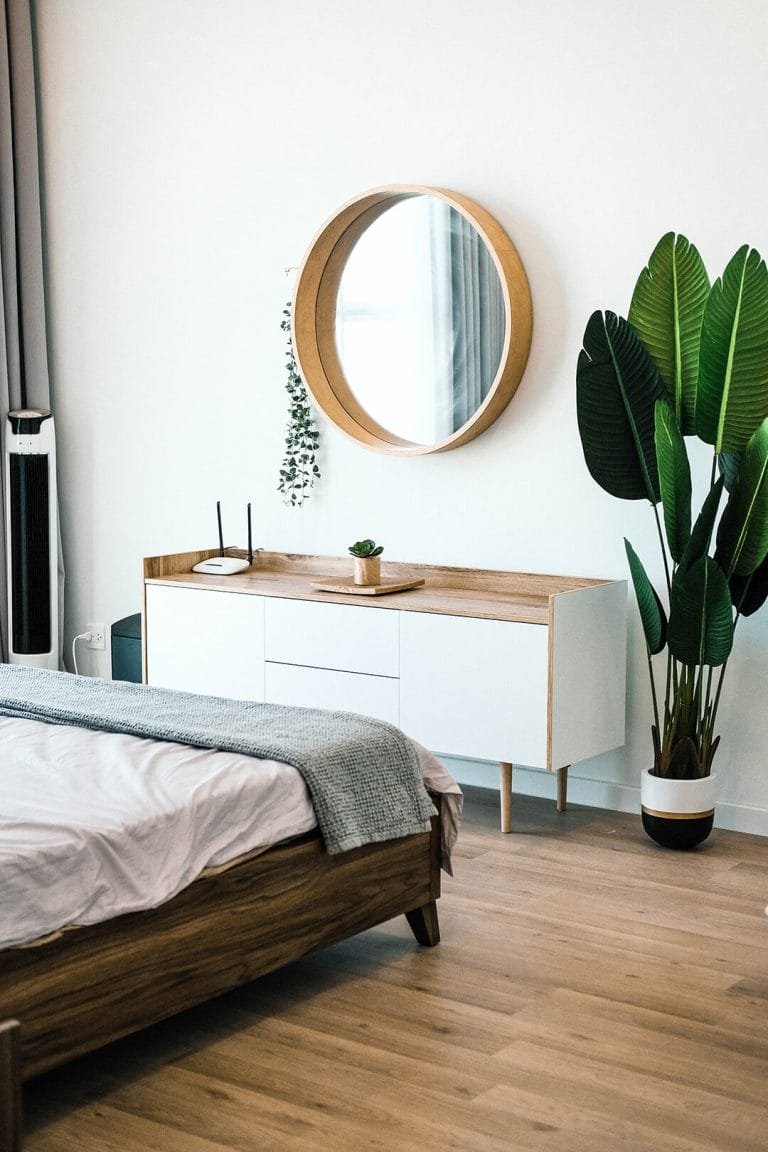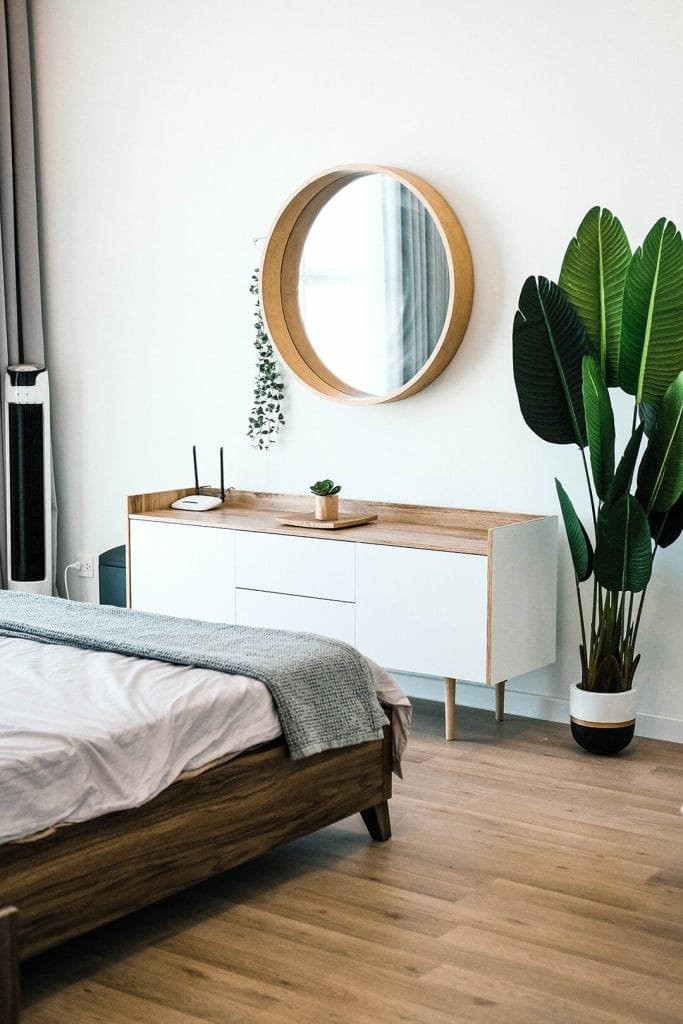 FAQs
Question. What is the main difference between traditional and modern bohemian design?
Answer. The primary distinction lies in their approach to space and elements. While traditional bohemian is more maximalist, the modern version is a blend of boho elements with contemporary, minimalistic aesthetics.
Question. What color palettes work best with modern boho design?
Answer. Modern boho design blends eclectic and layered aesthetics, harmoniously combining colors, patterns, and textures. Effective color palettes for this style include:
Earthy neutrals with vibrant accents like terracotta and teal.
Desert tones with sandy bases and cactus green highlights.
Muted pastels like soft blush and sage green.
Rich jewel tones such as emerald and sapphire.
Tropical colors with bright coral and aqua blue.
Monochromatic shades enhanced by varied textures.
Natural greens from olive to deep forest.
Cool, calm colors like soft gray and navy.
Warm, cozy hues including cream and cinnamon.
Global-inspired colors like earthy browns and indigo.
Textures and patterns, like vintage rugs and macramé, also play a crucial role in modern boho design.
Question. Do I need to incorporate nature in my bohemian interior design?
Answer. While plants enhance the design, it's not a strict requirement. However, they add freshness and an organic touch.
Question. Can I mix other design styles with modern bohemian?
Answer. Absolutely! Modern bohemian is all about personal expression, and it seamlessly blends with styles like rustic, industrial, or Scandinavian.
Question. What are some easy decorating tips for creating a modern boho home?
Answer: Begin by understanding your space, decluttering, and choosing a neutral base. Slowly layer it with elements that resonate with your personality.