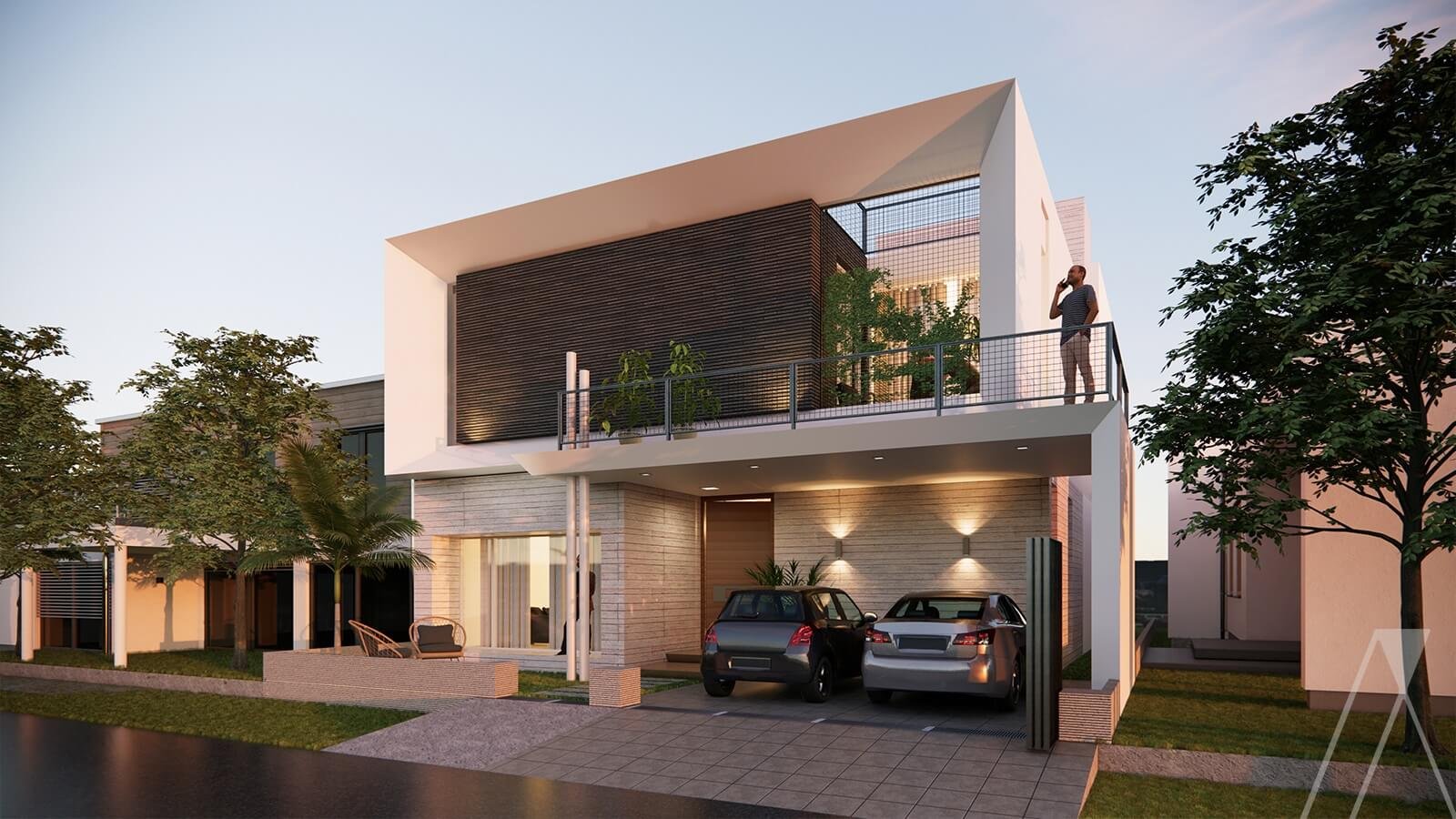 What is Residential Design
Residential design:
Residential design refers to designing and planning the layout (appearances such as façade, inner spaces, the connection of spaces, and functionality) of a residential building, such as a single-family home, an apartment building, or a condominium. This isn't limited to designing only new houses but also includes renovations, creating upper floors, creating partitions, and extending rooms within homes to accommodate more people.
Primarc Studio offers residential design plans in Pakistan, Ghar ka naqsha, or designing anything related to your home or ghar. For example, designing a house's exterior, also known as facade design, and making plans for residential homes can be classified into residential design. Whether you're thinking of knocking down the wall to create a bigger room or adding rooms to accommodate your growing family, Primarc Studio has got you covered.

Why Do You Need Residential Design in Pakistan?
Well, generally speaking, people think it's less time-consuming and easier on the pocket to hire a contractor directly and let them hammer away under your guidance rather than hiring an architecture firm. But this mistake costs more and leaves much to be desired in terms of satisfaction. You also discover that the materials alone cost you a fortune, and when you sit down to calculate labour wages and the time they take to complete a simple task, you realize you have spent more than you thought!
This is why you must at least consult professional house designers and architecture firms in Pakistan, like Primarc Studio, who can handle the entire project for you efficiently, diligently, and economically. Not only that, but they will also get you materials at a bargain and hire the right professionals who complete your renovation project or groundbreaking of your new house on time. Helping you reach your goal without getting swindled by the labourers or the market is the ultimate result of working with professionals to get your home designed in Pakistan.
Residential design is important to Primarc Studio's architect team as it allows us to interact with clients on a personal level by understanding their habits and needs and then keep these considerations in designing a place that further elevates their living standard. We create a design plan that meets the client's needs by playing with texture, light, and spatial interaction.
Vital Elements of Residential Design:
Some of the significant aspects taken into consideration while creating residential design are mentioned below:
Functional Design: Meeting the Unique Needs of Clients
We first determine the purpose of the building. Will it be a single-family home, an apartment building, or a condominium? Will it be a single or double portion (provision for tenants)? What are the current living style of the client and his requirements?
These factors shape and define the overall project and thus make it a unique and personal experience for everyone. What we have designed for them will not appeal to you, as your living style isn't similar. We have to place ourselves in the shoes of the client and imagine!
Size Matters: Identifying Living Space Needs
Then, we identify how many people will live in / using the place. What is the desired square footage for the living space/rooms? How many people plan to still live in the building? Is someone planning to go abroad permanently? Do you need a grease kitchen, or do you need a kitchen that is one ample space?
We can help you reach these conclusions easily. That is why before designing any space, we also arrange a meeting at your current residence to discuss your requirements. This helps us understand the spaces the client is comfortable in and compels us to discover ways to elevate those spaces in the new house.

Layout and Organization: Improving Utility and Privacy
We next plan out the layout of the communal areas. What is the desired number and size of bedrooms, bathrooms, and other rooms? What spaces should be placed on the ground floor and first floor subsequently?
Primarc Studio knows that different areas' diverse arrangements appeal to different people. Therefore, to improve utility, privacy, natural light and ventilation, and adaptability, we must look at residential design creatively, like a jigsaw puzzle. The final residential design depends on the plot size and the client's preferred residential plot design and getting the layout of rooms to work in accordance with both.

Aesthetics: Creating Unique and Appealing Designs
Aesthetics are also important in designing. What is the desired style and appearance of the building? Will it be modern, traditional, Spanish, classical, or something different?
At Primarc Studio, we aim to create unique and best designs for our creative team possible. Whether we are creating our 55th residential design or 99th design, it will be unique, cost-effective, and according to the budget of the client.
Energy Efficiency: Reducing Costs and Conserving Resources
How can the designed residence be as energy efficient as possible? What measures can be taken during construction to keep the cost as economical as possible? Discovering innovative ways to incorporate natural lighting can help reduce electricity use.
Looking at the current inflation rate in Pakistan and rising construction costs, it's useless if your home still uses as much electricity as before. We believe in achieving high energy efficiency through moderate cost and effective means.

Cross Ventilation: Improving Air Quality and Temperature Control
Using the natural airflow unique to your residential area to ventilate the rooms and the house is necessary. We know and understand that in our region, airflow is essential. The more fresh air enters the house, the later one has to open air conditioners, thus saving electricity and reaping a healthier lifestyle. It helps with improved air quality, temperature control, moisture control, and, eventually, cost savings.
Storage: Organising Spaces for Maximum Functionality
Organizing spaces are crucial for maintaining live-in areas. We are conscious of the shortage of space for storage which is a common complaint among homeowners in Pakistan. For this reason, we provide only the highest-quality storage solution ideas and provisions in our design.
Sustainability: Designing for Environmental Friendliness
How can the designed building be as environmentally friendly as possible? Helping conserve natural resources, such as water, sunlight, and energy, by using them efficiently and minimizing waste.
We can make this possible only by using common ways to our region, incorporating the readily available materials, and placing them in a way that elevates our aesthetics, increases energy efficiency, and ensures the home's functionality.

Still, Trying To Figure Out Where to Start?
Don't fret. Designing your dream house (Ghar) or apartment in Pakistan doesn't have to be tedious or debt-inducing. You can easily avail home design services in Pakistan at economical rates by consulting our architecture and interior design firm, Primarc Studio. Our team of architects and designers will ensure that every aspect of your residential design (future and current) is sorted out according to your wishes and within your budget!
Whether it's a renovation, upgrading flooring, interior designing, or fixing it up before the wedding season hits, Primarc Studio has got you covered. The free first consultation is an added perk, so don't hesitate to contact us immediately. The sooner you get cracking on the project, the better.