Mistakes to Avoid When Doing Kitchen Design in Pakistan!
Remodelling or even designing a kitchen in Pakistan can be a hectic task, if not impossible, especially when one is unsure about how to start, where to start and what features or what interior or kitchen design would suit their lifestyle best.
This is where it becomes crucial to seek professional advice or consultation from an architect or interior designer. Homeowners typically find handling a kitchen design daunting because the features they pick and choose from various catalogue designs don't necessarily work together.
There are many questions that one must ask themselves, what are the trending kitchen design in Pakistan? Would it work in my kitchen? What is the kitchen sink design going to be or how will the kitchen cabinets look eventually in my kitchen and would it all go together or not?
For anyone taking on the Herculean task of getting their kitchen designed by an architect or themselves, the following checklist can help them to avoid the common mistakes which usually occur during the process. We can easily find many amazing kitchen designs on Pinterest that look good, but there are some basics that wouldn't apply well to our kitchen in Pakistan.
There are many ideas on Pinterest, which give your island with marble countertops, brass hardware in kitchen cabinets, or even white cabinets. But don't forget that practicality is the first inspiration for this space. We also need to find a safe place for those large cooking wares, that help you a lot during the dinner parties.
Starting with Basics of Kitchen Design: Kitchen Layouts
Here are standard or common layouts, which we as an architecture firm also propose to our clients. But those layouts would work best only when implemented with your habits.
You have to think and convey to your design dedicated team or in this yourself, how many hours do I usually spend in the kitchen? Do I need a kitchen designed in a way from which I can keep a good eye on kids as well? Do you service guests regularly or hold large party dinners? One sink or multiple sinks?
All these questions will help you decide more easily what kitchen layout suits your habits best. We are all familiar with open kitchen design but as we later will discuss, open kitchen design has its own pros and cons, which if you are going with it, you must keep in mind.
a. Galley Layout
There are several efficient kitchen plans to select from, but galley kitchen designs are among the best as it aims for maximum efficiency in a limited space.
They work best for people in search of small kitchen designs in Pakistan or those who love to cook and have a limited amount of space in their home for the kitchen, these are the right solution.
If your kitchen is cramped, running counters on both longitudinal walls will provide ample space for drawers, lower cabinets, sinks and other storage areas also.
b. L-Shaped Layout
Another familiar layout is a sort of L-shaped space. L-shaped kitchens are classical and will remain timeless no matter what material you even go with.
This layout allows for ample space and display area potential for kitchen cabinet design, shelves, kitchen accessories, a place to display pans (if you are going for this theme), a kitchen island and plenty of space to display your walls, countertops and other accessories.
c. U-shaped Kitchen Layout
U-shaped kitchens are the epitome of efficiency from large kitchens to small kitchens (in only some use cases). They provide counter space (perfect for displaying your black granite countertops or any other colour) on three adjacent walls, which is ideal for meal preparation.
It's one of the best designs for kitchens of any size, whether compact or expansive, and it's the simplest method to implement the ergonomic triangle that's often discussed in the context of kitchen layouts with plenty of space always available for cabinets, refrigerators or even shelves.
d. Island Kitchen Layout
Incorporating a kitchen island can transform your kitchen into a functional and stylish space. This layout offers additional countertop space, and storage, and can serve as a casual dining area. However, it is essential to consider the available space and ensure proper circulation around the island.
Choosing the Right Materials and Finishes
Selecting high-quality materials or the right materials is very important whether you are going for a kitchen design on a budget or not. Finishes are vital to creating a durable and visually appealing kitchen. Here are some popular options:
1. Countertops
Granite, quartz, marble, and solid surface materials are popular choices for kitchen countertops in Pakistan.
These materials offer durability, resistance to stains, and a wide range of colours in a wide range of budgets, and patterns to suit your design preferences.
2. Flooring
When it comes to kitchen flooring, consider materials that are durable, easy to clean, and resistant to moisture.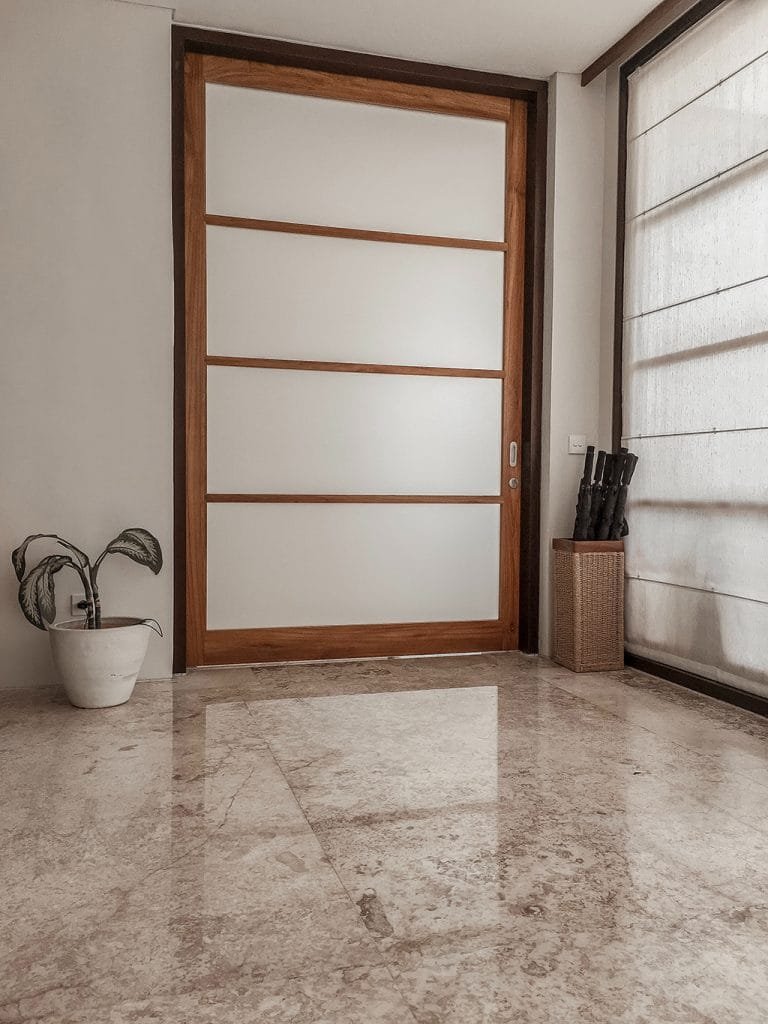 Tiles, hardwood, laminate, and vinyl are commonly used options in Pakistan. Opt for non-slip surfaces for enhanced safety.
For the flooring, we suggest matte ceramic tiles or marble. As they fall within every budget that is reasonable for every Pakistani kitchen.
3. Backsplash
A well-designed backsplash not only protects your kitchen walls from stains but also adds a decorative element. Popular choices include ceramic tiles, glass mosaics, stainless steel, and natural stone. Choose a material that complements your overall kitchen design.
It is recommended if your kitchen has less natural light then go for light-coloured and reflective backsplashes. As it will reflect the light and make the small kitchen design that you went with a lot lighter and brighter.
4. Cabinets
High-quality cabinets provide functional storage and contribute significantly to the overall aesthetics of your kitchen.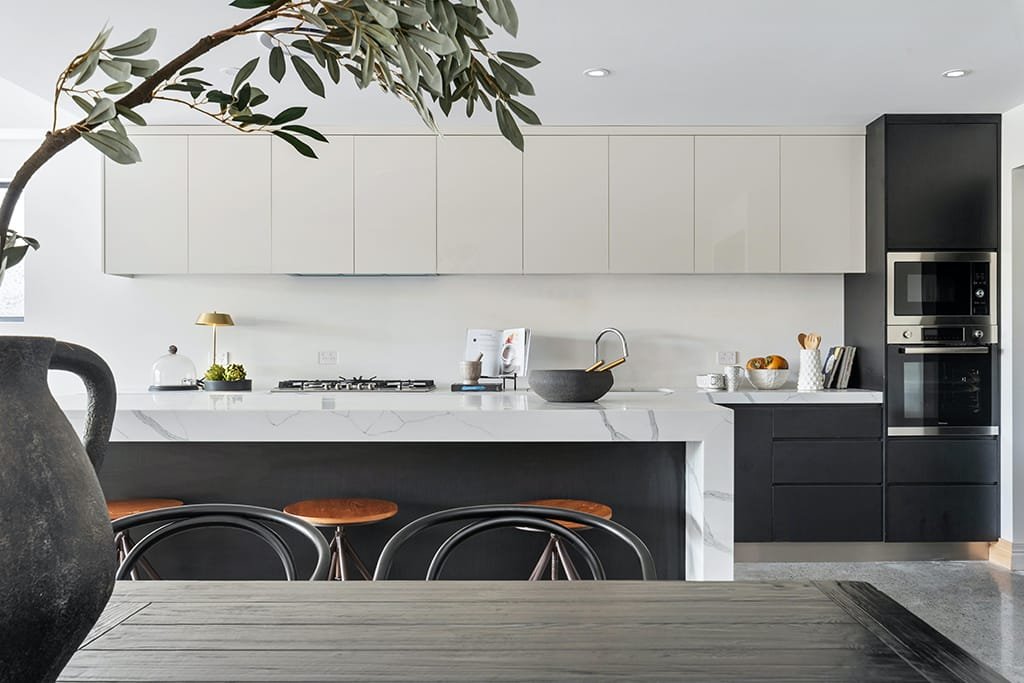 When we are going for cabinet designs with the best premium look, we opt for materials such as solid wood. It has a long life in kitchen cabinets.
When going with a budget in mind we opt for plywood, or medium-density fiberboard (MDF) with durable finishes that can withstand the rigours of daily use.
5. Ceiling Design
One often overlooked aspect that can truly elevate the overall aesthetics of your kitchen is the ceiling design. There are two types of ceiling that you can go for, P.O.P ceiling (Plaster of Paris ceiling) or Suspended Ceiling.
Tray ceiling design is mostly suggested and useful for the kitchen as it simply allows the kitchen design to showcase its beauty, one con of pop ceilings is, the grease from the kitchen over time will decrease the life of the POP ceiling and cleaning this ceiling is nearly impossible.
A suspended ceiling can be a bit bland but what is bland makes up for its material versatility and ease of use in the cleaning. Also if you damage one panel you can easily replace it, without any hassle.
Maximizing Storage and Organization
An organized kitchen not only enhances efficiency but also reduces clutter and makes your cooking experience more enjoyable.
Consider the following tips to maximize storage and organization in your kitchen:
1. Utilize Vertical Space
Install wall-mounted shelves in your kitchen, hanging racks, or pot rails to utilize vertical space effectively.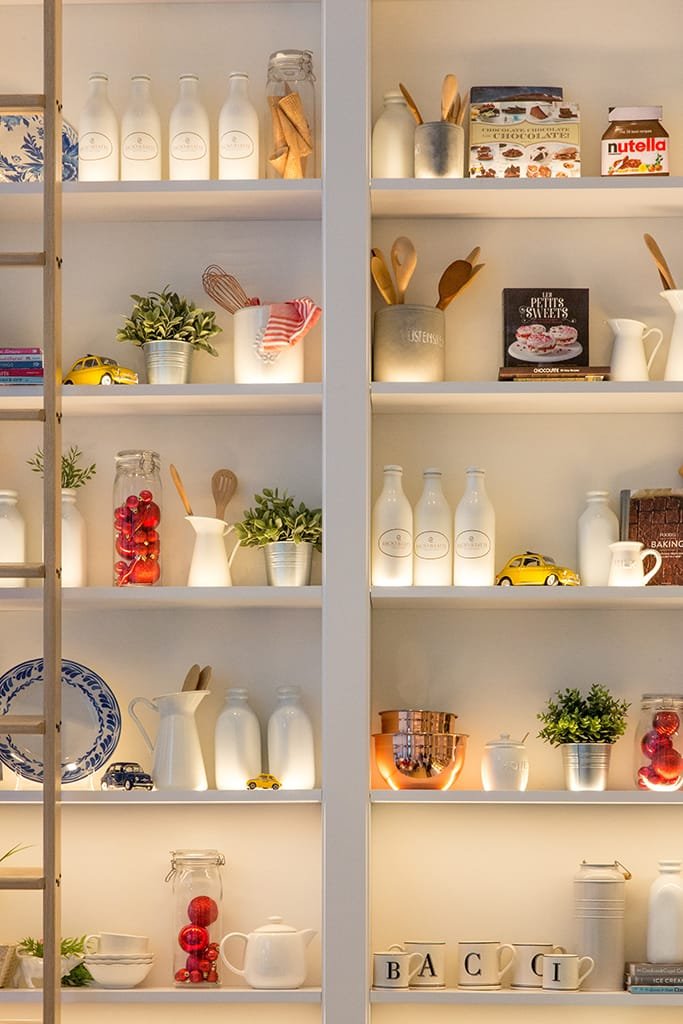 This allows you to keep frequently used items within easy reach while freeing up valuable counter space for kitchen accessories.
2. Incorporate Pull-Out Storage
Incorporate pull-out drawers, roll-out trays, and corner storage solutions in your cabinets to maximize storage and accessibility. These features enable you to efficiently organize and access items without rummaging through cluttered cabinets.
3. Install a Pantry
A well-designed pantry is a game-changer when it comes to kitchen organization. If space permits, consider dedicating an area to a walk-in pantry or installing tall, pull-out pantry cabinets.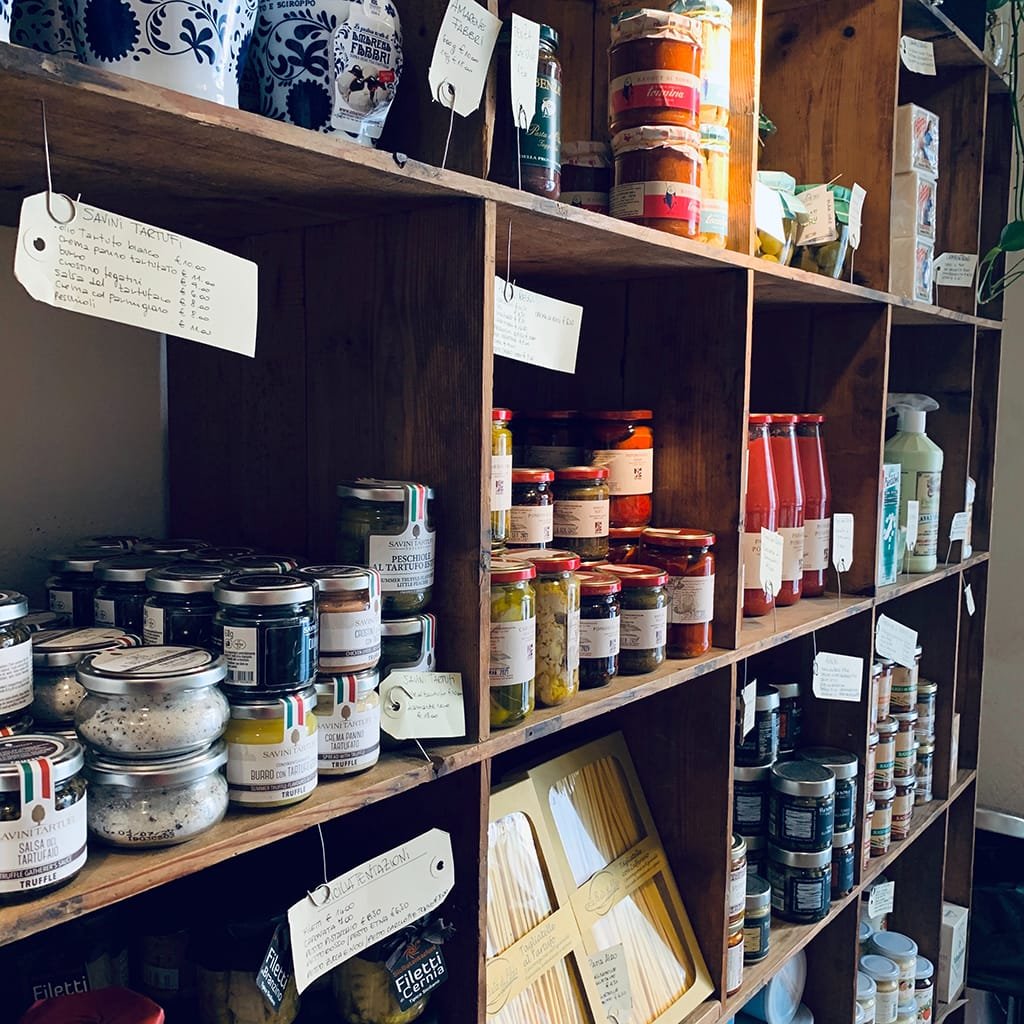 This provides ample space for storing dry goods, small appliances, and more.
4. Optimize Drawer Organization
Dividers, inserts, and trays within your drawers ensure that utensils, cutlery, and kitchen tools are neatly organized and easily accessible.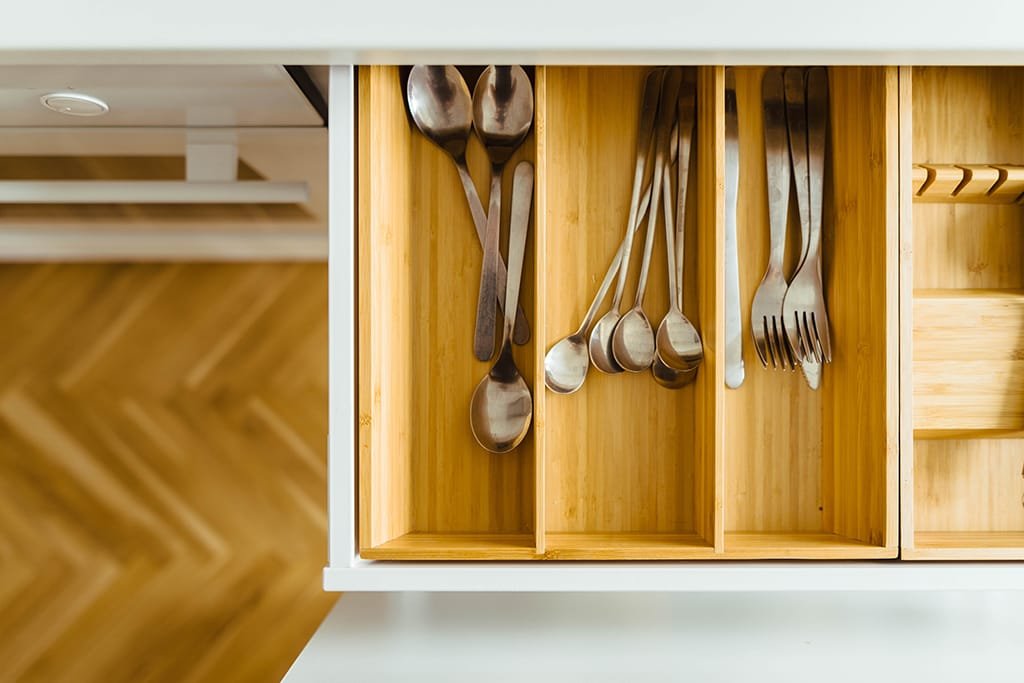 Consider customized solutions to cater to your specific needs, your architect or design team can help you in this regard and make the most of your drawer space.
Common Problems with Kitchen Design Ideas or Kitchen Layout
Here are the common problems or issues that you need to keep in mind when designing the kitchen or renovating it.
1. Ignoring Local Building Codes and Regulations:
Consult with your local architect and make sure to familiarize yourself with local building codes and regulations, and ensure that your kitchen design complies with these requirements. This is especially important for people who live in rental or apartment complexes.
2. Skimping on Quality Materials:
While it may be tempting to cut costs by getting afraid of those high prices. Using cheap and lower-quality materials, as both the cheaper and expensive accessories look the same! Right?
No.
This can lead to problems in the long run. Invest in high-quality materials that are sourced from reputable shops, not from some shady-looking group on Facebook. As if the material fades you can claim a warranty for it, and will stand the test of time.
3. Overcrowding the Space:
A cramped kitchen is always difficult to work in and can make the space feel cluttered and uninviting. Especially in Pakistan where food is a big part of our family and culture. When designing a house, make sure you are aware of the minimum space that is needed according to your lifestyle, a team of interior designers or architects can also help you out in determining this detail.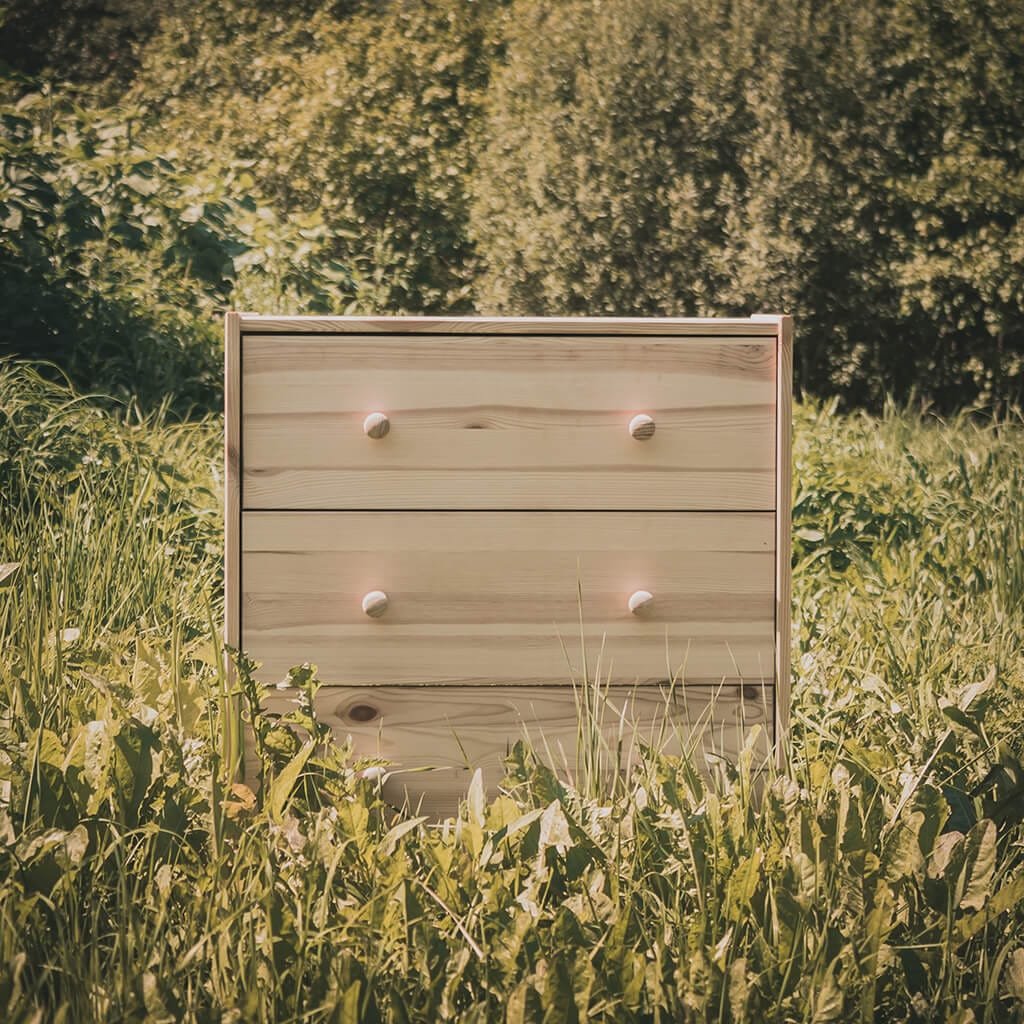 If you are making changes to the already-built kitchen, make sure not to clutter it too much, take out the chairs and table, and look for light-coloured and reflective paint on walls to enhance the lighting and cleaning.
Make sure to allow enough space for people to move around and work comfortably, who are not getting blocked by the refrigerator or a kitchen island squeezed into a small kitchen.
4. Take Advantage of Windows in Compact Cooking Spaces.
Proper ventilation is very important in any kitchen. As it helps remove cooking odours and to keep the air fresh. Look for creating windows or if there is no option, look for mechanical ventilation tools, like installing a vent hood or kitchen hood.
The inclusion of daylight in the kitchen will also increase its appeal of it. Its impact will be more than changing the paint on the wall or getting sleek new appliances. Make sure to include sufficient ventilation in your renovation or kitchen design.
5. Ignoring Ergonomics:
An ergonomic kitchen is one that is designed to be comfortable and efficient to use, an Ikea kitchen comes to mind.
Consider factors such as counter heights according to your height and appliance placement to ensure that the kitchen is easy to use.
6. Skipping a Thorough Planning Process:
A thorough planning process is essential for a successful kitchen design, whether its renovation or from scratch. Take the time to consider your needs and preferences, those odd moments when you felt like you needed a tap near your cooking range to fill water in pot easily for rice!
Work with a professional to create a design that meets these requirements, you will be surprised how many different solutions they can bring to the table.
7 . Plan Around Appliances as Soon as Possible in the Design Process.
The kind of appliances and high cabinets you wish to install will also have an impact on your kitchen's layout.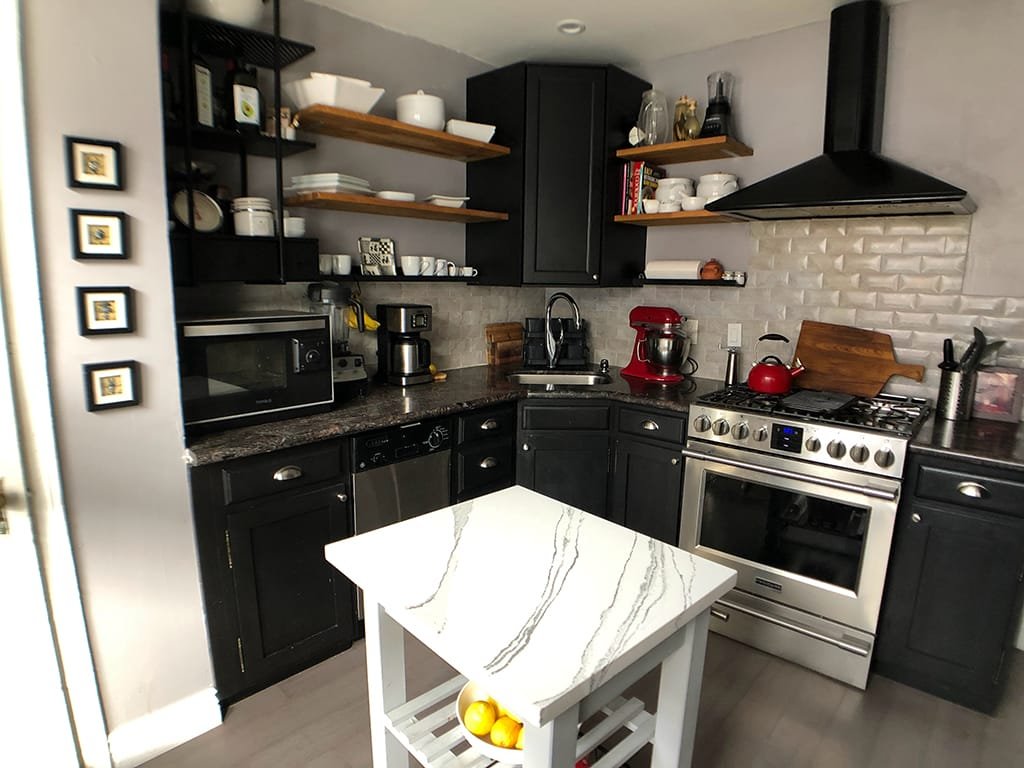 During the planning phase, viable layouts can be limited by the fact that tall cabinets and appliances tend to appear best when they are placed either at the beginning or end of a cabinet run, thus allowing visual space in the middle for the sink, cooking range, deep freezer or other services.
8. Pick Storage that's Truly Ergonomic
Having a well-organized kitchen is quite helpful. Maximizing storage space is one of the simplest ways to make your kitchen feel more welcoming and comfortable.
Kitchens can be substantially revamped by adding a single piece of furniture, such as the Suffolk larder (above), a bi-fold cabinet, or an island, which can serve to both increase counter space and conceal clutter.
Make drawers instead of cabinets for the lower storage units. A deeper drawers not only makes better use of the available space, but also makes it simpler to retrieve goods from the rear of the cabinet.
9. Go with the Flow
Last but not least, don't be afraid to take a leap of faith with new design choices, whether its introducing a backsplash, a colour of wall other than white, or simple ceiling or floors in wood, make sure to play around with the process of design and basics of the layout.
Wasted areas or insufficient storage are two symptoms of a poorly planned layout. As a result, it becomes more challenging to maintain order and efficiency in the kitchen. Similarly, if the kitchen's design doesn't make good use of natural light, it will be difficult to see and operate. In addition, it can be painful and inefficient to operate appliances and counters that are placed in an awkward location since the plan did not take ergonomics into account.
Poor kitchen layouts can frustrate and waste time. Carefully analyse the kitchen layout and collaborate with a professional to design a space that suits your needs and interests. Compromises in kitchen materials might cause several issues.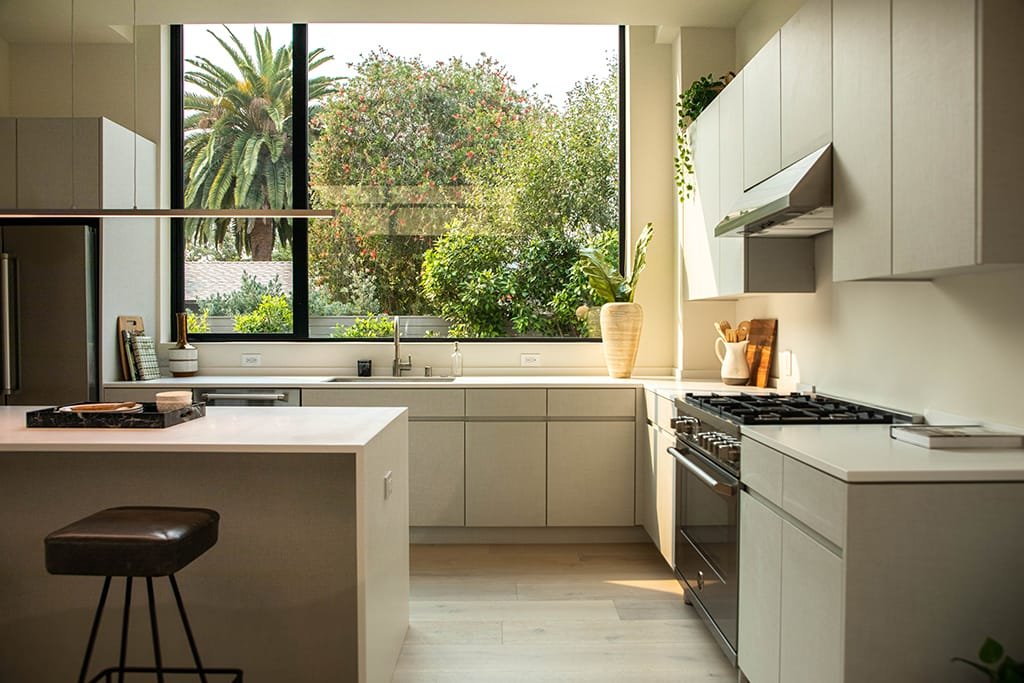 Careful design can avoid these issues. Professional assistance whether it's regarding your ceiling design, custom shelves for your precious family pictures or fun new material, can benefit the customer or homeowner in the long run. Architects are expert designers and can notice issues early on.
Clients can save a fortune on kitchen design and remodelling by hiring experts like Primarc Studio, who are providing their services all over Pakistan, whilst their office is located in Islamabad. The interior designers and architects at Primarc Studio are conscious of delivering high-quality kitchen designs with the complete satisfaction of clients. Their diligence in resource management enables them to get their clients the best materials required to build a kitchen that lasts a long time.
You can get in touch with Primarc Studio – Architecture and Interior Design studio for your next architectural design whether it's in Rawalpindi, Islamabad, Swat, Peshawar or anywhere in Pakistan. You can contact us via phone at +92 331 5817223, email at primarcstudio@gmail.com or social media like Instagram, Facebook, or whatever suits you.
Key Takeaways
Seeking professional help can make the task of designing a kitchen less daunting.
It's important to consider the practicality of a kitchen design.
There are common kitchen layouts to choose from, but the best layout is the one that suits your habits and lifestyle.
Problems with kitchen design can arise if local building codes and regulations are ignored if low-quality materials are used if the space is overcrowded, if ventilation is insufficient, if ergonomics is not considered, or if there is no thorough planning process.
Proper planning around appliances is crucial in the design process.
Frequently Asked Questions – FAQs
Question: What are some ways to improve the appearance of my kitchen?
Answer: Here are 7 simple and affordable ways to make your kitchen look more expensive:
Update your hardware, replace cabinet doors, paint your appliances to look like stainless steel, Hang artwork, add window treatments, use lighter colours, and change your lighting.
Question: Which colours can make a small kitchen appear larger?
Answer: Choosing light colours for your kitchen can make it look bigger and more open. Light colours reflect more light than dark colours. Light blue, green, or pale yellow are great choices to create a spacious and airy feel in your kitchen.
Question: What are the upcoming kitchen trends for 2023 and beyond?
Answer: In 2023 and the coming years, we predict kitchens will still use white colour, but they will also become more colourful. Homeowners will choose warmer tones and bright colours instead of simple white and grey colours or Scandinavian-style minimalism.
Question: Which kitchen colour is considered timeless?
Answer: White kitchen cabinets are timeless and have been popular for over 50 years. They look clean and bright, which makes them a great choice for many kitchens.
Question: What is the most commonly used wall color for kitchens?
Answer: When choosing the color for your kitchen cabinets, it's good to know that dark cabinets can add warmth to your kitchen, especially if you have lighter walls and flooring. They also tend to show scratches and food stains less easily. If you have an active household with kids or pets, dark cabinets might be a better option as they tend to hold up better against wear and tear than lighter cabinets.
Question: Why is proper ventilation important in any kitchen?
Answer: Proper ventilation is important in any kitchen as it helps to remove cooking odours and keep the air fresh. Homeowners should consider creating windows or installing mechanical ventilation tools like a vent hood or kitchen hood to ensure sufficient ventilation in their kitchen renovation or design.
Question: What can homeowners do to avoid overcrowding the kitchen design or kitchen space?
Answer: Homeowners should leave adequate room to walk and operate in the kitchen to minimize overcrowding. To improve lighting and cleanliness, they should remove chairs and tables and use light-colored, reflecting wall paint.
Question: What are some common problems with kitchen design ideas or kitchen layout?
Answer: Ignoring local building rules, skimping on materials, overcrowding, neglecting ergonomics, and not planning ahead are common kitchen design mistakes.
Question: What are some common kitchen layouts?
Answer: Galley, L-shaped, and U-shaped kitchens are common. Each layout has pros and cons, so homeowners should weigh their needs and preferences.
Question: Why is it important to seek professional help for kitchen remodelling or designing?
Answer: Remodeling a kitchen can be tricky. Experienced architects and interior designers may help homeowners avoid mistakes and design a kitchen that fits their lifestyle.
Question: What materials are commonly used in Pakistani kitchen designs?
Answer: Common materials used in Pakistani kitchen designs are wood, granite, marble, stainless steel, and glass. Wood is used for cabinets and shelves. Granite and marble are used for countertops. Stainless steel is used for appliances. Glass can be seen seldomly used for cabinet doors as well.
Question: What are popular kitchen designs in Pakistan?
Answer: Popular kitchen designs in Pakistan include modern, traditional, rustic, and contemporary styles. Modern kitchens have clean lines and high-end appliances. Traditional kitchens have a warm, cozy feel with wooden cabinets. Rustic kitchens have a natural and earthy look. Contemporary kitchens are sleek and practical.
Overall we have experienced while working in the field of architecture, that Modern and tradition kitchen designs are more popular in Pakistan.
Question: What are the important considerations when designing a kitchen in Pakistan?
Answer: Important considerations when designing a kitchen in Pakistan are layout, storage options, lighting, and colour scheme.
The layout should be functional and efficient. Storage options should include cabinets, drawers, and shelves. Lighting should include overhead, task, and accent lighting. The colour scheme should reflect personal style and complement the home.
Question: How can I incorporate natural light into my kitchen design in Pakistan?
Answer: To incorporate natural light into your kitchen design in Pakistan, consider adding windows or skylights. If windows are not an option, you can install a glass door or a glass backsplash. Use light-coloured materials and reflective surfaces to help bounce natural light around the room.
Question: What are space-saving solutions for small kitchens in Pakistan?
Answer: Space-saving solutions for small kitchens in Pakistan include tall cabinets to utilize vertical space, a kitchen island for extra storage and counter space, and pull-out shelves and drawers. Multi-functional appliances, such as a combination microwave and convection oven or a refrigerator with a built-in water dispenser, can save space. Choosing a light colour scheme and minimizing clutter can also make a small kitchen feel more open and spacious.